With over 28 of some of the best golf courses all within one hour's drive from the centre of Pattaya, we are spoil for choice to play our 18 holes.
Thousands of expats and Thais are playing golf regularly around Pattaya and Chonburi province's every week.
Pattaya is also one of the top golf destinations in Asia for a golf holiday,
In this blog post we will talk about where to get a golf lesson while in Pattaya, where to find a golf academy, where to get your clubs re-gripped and the type of golf lessons on offer
Type of Golf Lessons
At the Golf Range - Private
There are many types of golf lessons available to players of all levels. The most common and basic type of lesson is the private lesson, where a single student works with a coach one-on-one.
Private lessons can be very helpful for beginners who want undivided attention or experienced players who want to focus on specific areas of their game.
At the Golf Range - Group
Group lessons are another popular option, especially for beginners. In a group setting, several students work with a coach at the same time. This can be a great way to learn in a supportive and social environment. It can also be more affordable than taking private lessons
On the Golf Course
Some golfers prefer to take their lessons on the course, rather than at the driving range. This can be a great way to learn as it allows you to practice your game in a real-life setting. Lessons on the course can also be more affordable than private or group lessons
Online Golf Lessons
With technology becoming more and more commonplace, it's no surprise that online golf lessons are becoming popular. Online lessons give you the flexibility to learn at your own pace and in your own time. You can also access online lessons from anywhere in the world.
On the simulators
Another popular option for golf lessons is the simulator. Simulators are a great way to get exposure to different courses and practice your game in a controlled environment.
Many simulators also offer the ability to track your progress and statistics, which can be very helpful in identifying areas of improvement.
These simulators can track your ball speed, trajectory, and spin rate to give you an accurate representation of your shot. They can also be used to practice different types of shots, such as fades, draws, and hooks.
You also get to video your swing and then can see what you are doing wrong. This is an amazing feedback tool
Simulators are becoming increasingly popular among golfers of all levels as they provide a fun and realistic way to improve your game.
Where to get golf lessons in Pattaya
There are several fully qualified PGA Instructors based around the region teaching daily either at a local golf course or even in the centre of town.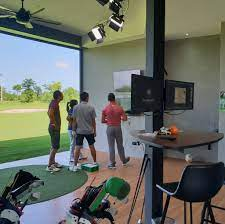 Perhaps the newest academy is the TPR Golf Academy set up at Siam Country Club's Old Course run by Tyrone Renggli.
Tyrone is Swiss and the founder and head coach of the TPR GOLF ACADEMY​ and is able to teach in English German and Thai.
A lot of thought and money has gone into the setup there which is very impressive. Many of the pros also use this academy and the equipment on offer to improve their swing and distance.
Learn where the LPGA stars play at TPR Golf Academy
Apart from all the equipment their driving range is long and undulating and is used by all the stars during the LPGA Honda Thailand tournament every spring.
Another bonus is if you decide to get the TPR coaches to take you out on the course, you have the added thrill of playing on the iconic Old Course, one of the top 18 holes golf courses not only in Pattaya but well known around the world.
Phoenix Gold Golf & Country Club
Andrew Scaife a likable English coach runs the coaching at Phoenix Gold Country Club around 25 minutes from the city centre.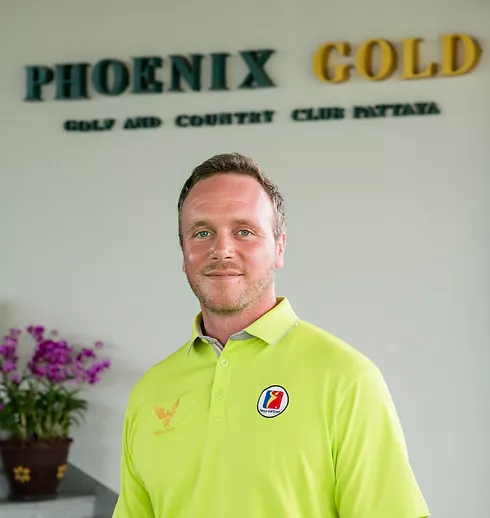 Not only do they have a large driving range there, but the club has recently opened a number of bunkers to test your skills out of the sand.
You will find opposite is also one of the largest putting greens in the area, so a great area to practice your skills.
Chee Chan Golf Resort
Chee Chan Golf Resort is a relatively new golf club with an 18-hole championship course designed by David Dale of Golfplan.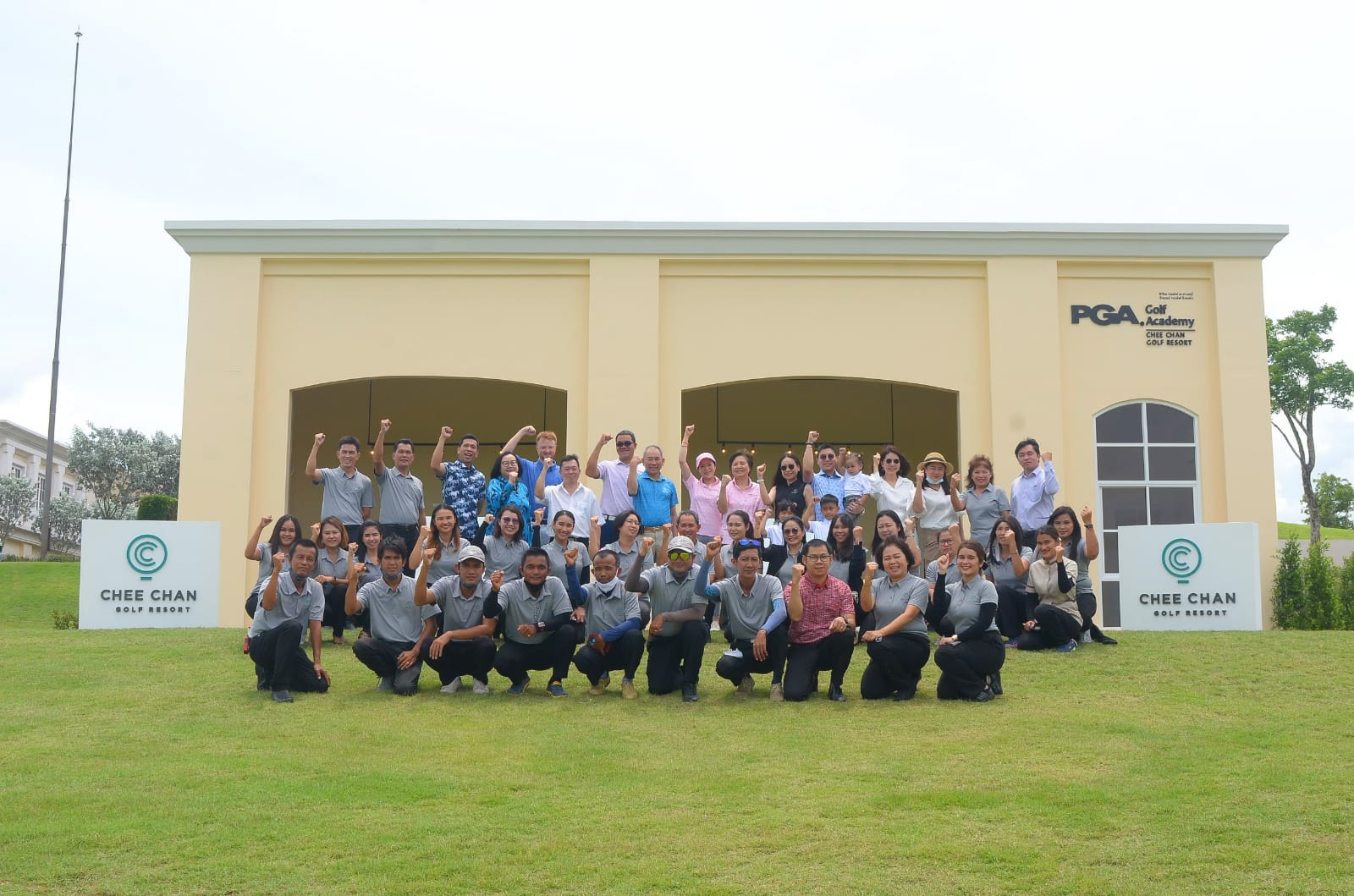 The course is situated on 580 Rais (229 acres) of land in a stunning location next to the famed Chee Chan Mountain with the golden engraving of the Lord Buddha.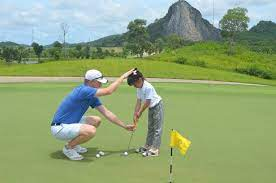 This massive Buddha can be seen from every hole of the golf course.
Chee Chang Golf club opened in the past four years and has a top-class PGA Academy on site.
They offer students the opportunity to be coached by a qualified PGA instructor in a professional environment.
Their academy programs offer a variety of teaching packages and use the very latest technology.
One of the bonuses of using an on-course golf academy is you can always ask your instructor to take you out onto the course, so you can actually receive hole by hole coaching tips.
The Golf Hub in the city
Another alternative if you like to take lessons back in the city, is to head to the Golf Hub which is handily located in the middle of Buakhao Market, Soi Buakhao on Level 1 above Cafe Amazon.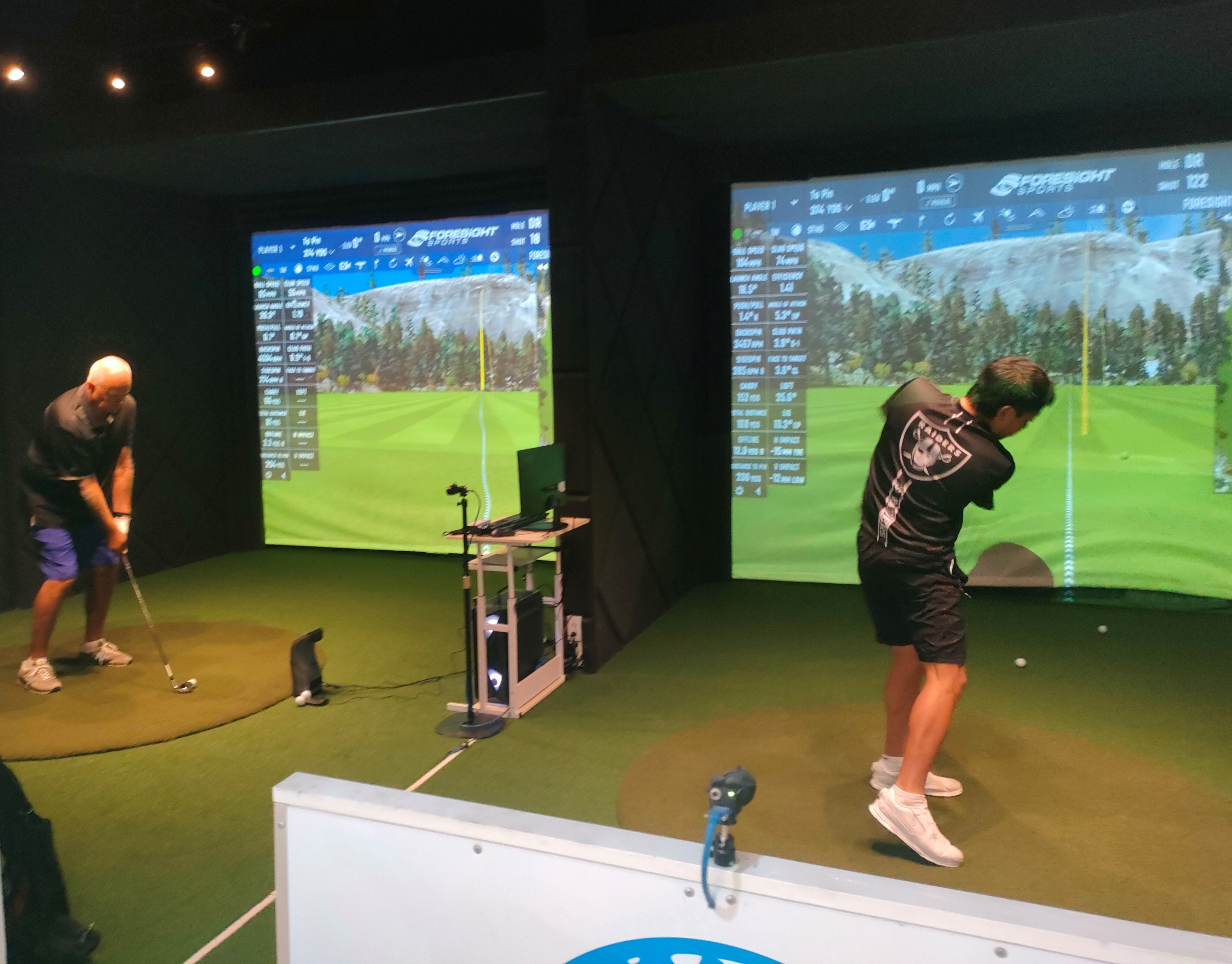 Run by Paul Tudor who is a full member of the PGA of Australia, he coaches here six days a week.
So if you don't particularly wish to head out of town to a golf course, Paul's lessons are right on your door step.
They have a range of lesson packages available. Beginners to advanced, short game and he also offers on-course playing lessons as well.
They even have Online Lessons available and complimentary swing analysis.
Fitting Service in town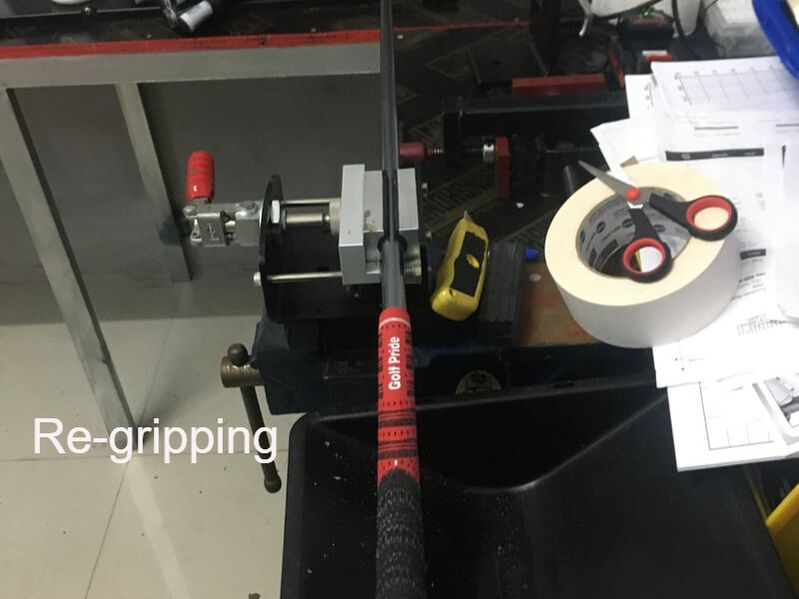 The bonus is that the Golf Hub is also one of the few golf fitting services available in town.
All brands of grips and shafts are stocked and repairs can be completed even while you wait.
Their services include:
Re-gripping, Re-shafting, Shaft Frequency Matching, Swing Weighting, Shaft FLOing, Club building, Lie and loft adjustment, Custom Club stamping and any other type of repair.
Diana Driving Range
One of the oldest driving ranges in Pattaya is Diana Driving Range and the guy to see there is David Race.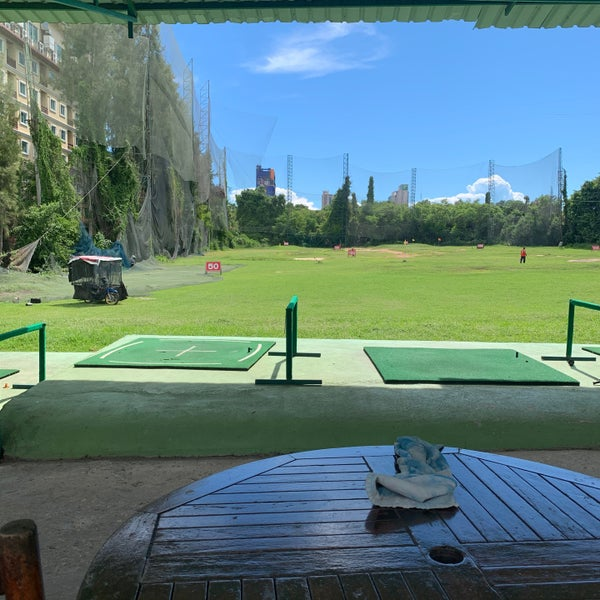 He is full time PGA coach here in Pattaya located at Diana Driving Range just off Pattaya North Road and Sukhumvit Road.
He offers a range of options so even if you need just a couple of lessons to help with your swing he can do 30 minutes for 650thb and one Hour for 1,000thb or if you need more help has a package of ten lessons for 9,000thb.
With over 30 years of coaching experience David can help all, from total beginners to scratch golfers.
As with most PGA Golf coaches, David would be able to meet you at some of the Pattaya golf courses, whether you are golf holidaymakers or thai golfers for some golf instruction while playing 18 holes.
Mike Mclaren is another well known golf coach who give lessons at the Pattaya Driving Range just off the 3rd road near the Pattaya Sports Club.
Golf in Thailand golf lessons
For a comprehensive list of the Golf Academies in the area along with their contact details check out the Golf in Thailand forum at https://aseannow.com/forum/304-golf-lessons/ and scroll down to their Golf Lessons section.
In the end none of us, even the pros have a 100% mistake free round, so it sometimes pays to fine tune your game by going to see a PGA coach.
Of course if you are considering taking up the sport then booking a few lessons is vital before you attempt to go out on the golf course.
Most golf courses have excellent driving ranges where you can go to practice from Khao Kheow country club in the north to Pattaya Contry Club nearby.
Happy Golfing