If you're looking for a challenging and scenic golf destination, Bangkok is the place to be. With its lush tropical vegetation and stunning views, Bangkok offers some of the best golf courses in the world. In this comprehensive guide, we will take a look at some of the best golf courses in Bangkok and what makes them so special. So whether you're a seasoned pro or a beginner just starting, read on for the inside scoop on the best golf courses Bangkok has to offer!
Bangkok, Thailand's capital and largest city, offers an increasingly growing number of top-class golf courses for tourists to enjoy away from the bustle of the lively streets and magnificent shrines. Thailand is world-renowned as the Land of Smiles, and for very good reason, particularly for those who want to play at one of the city's most distinctive golf courses.
Each of these courses, while having its distinct style and level of difficulty, has one thing in common: the tropical beauty that surrounds them. Water is featured on many of Bangkok's more popular golf courses so be sure to listen to your caddie, who can be anything from a wise older gentleman to an attractive young Thai woman.
Bangkok's golf courses are often much cheaper compared to many capital cities around the world, in large part because new ones are being developed all the time but the number of golf players visiting Thailand is on the decline in line with world travel. Many of the Thailand's best golf courses are located in and around Bangkok.
Despite the travel restrictions, Bangkok has become a bit of a mecca for golfers recently, as it provides the ideal mix of nightlife and leisure facilities for everyone to enjoy. With superb golf club amenities and challenging golf courses, as well as 5-star customer service, you are sure to be guaranteed a golfing holiday in Bangkok that becomes a golfer's dream.
Many golf courses provide complimentary transportation from your villa or hotel to the course, so get out on the greens early morning to avoid the afternoon temperatures. Bangkok has so much to offer, you will be very happy with your decision to visit and play golf here. Now let us get into our top ten golf courses you should play in the Bangkok region.
Some of the Best Golf Courses in Bangkok:
The Alpine Golf Club
Located in southern Bangkok, this course is known for its hilly terrain and beautiful views.
The course is one of Thailand's top-rated courses, as well as one of Asia's finest. The 2000 Johnnie Walker Classic PGA tournament, won by Tiger Woods, was played on the layout created by Ronald Garl, one of America's most renowned golf course architects.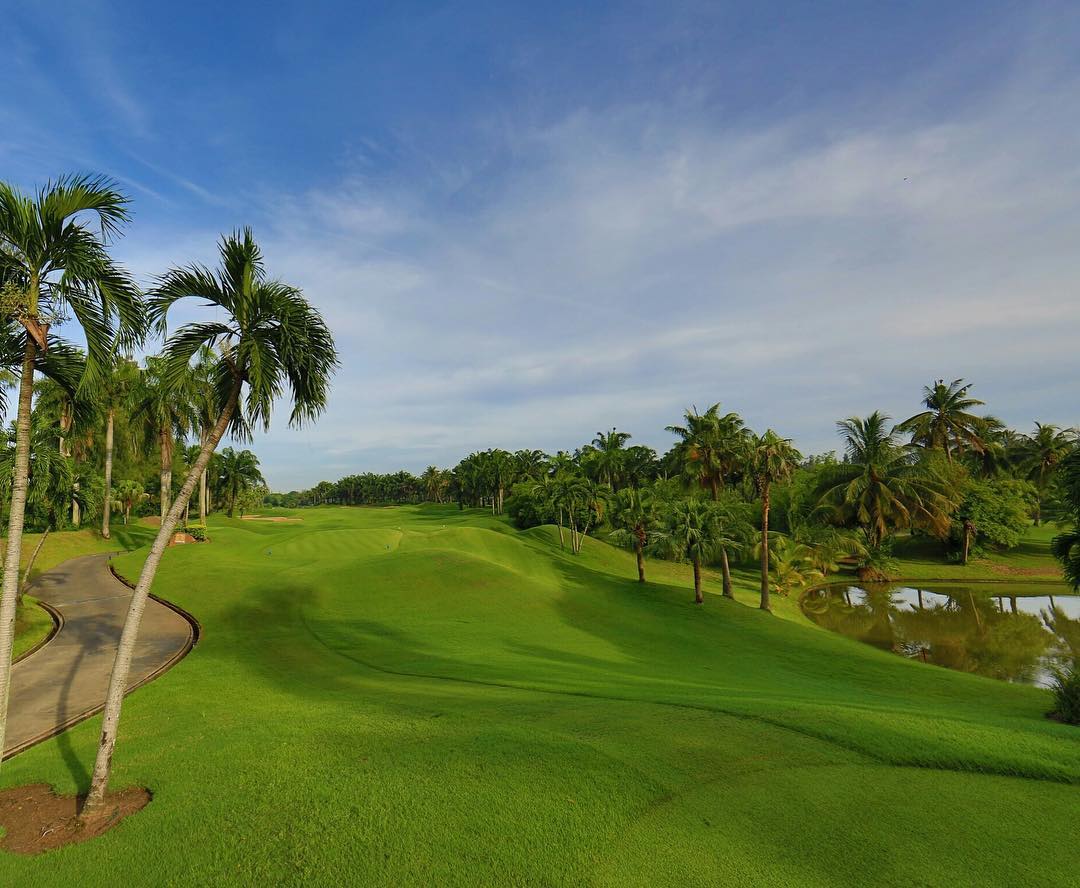 The great layout and one of the most difficult golf courses in Bangkok is the Alpine Golf Sports Club . One draw back is this is a members-only golf club's but that ensures the upkeep is carried out to the highest standards, with lightning-quick greens and undulating fairways, in addition to the excellent hole routing. Although Alpine is a members only golf course there are still many options available to play this course when visiting Thailand.
The broad, stately trees, bushes, and shrubs that grow within the rolling parkland design are a great touch. It's hard to fathom how Alpine grew from flat rice paddy fields. The varying elevations are more akin to those on golf courses in Hua Hin or Phuket than they are to Bangkok.
Water is visible in several forms on this long, undulating parkland course, which boasts the highest elevation changes (519 meters) of any layout in the region. Features include beach-style bunkers and numerous water obstacles, as well as a wonderfully rolling undulating design with significant elevations. Alpine is not for the faint of heart.
Some of the routes need direct shots to prevent becoming entwined among the jungle's trees. Finding the greens, which are frequently bordered by water, is also a difficult task. The 7th and 11th holes, for example, are both played to island greens connected together by a tiny strip of land.
With such a small putting surface to aim at, one is left astonished to learn that Tiger Woods eagled the 555-yard par-5 7th on his way to capturing the 2000 Johnnie Walker Classic.
The good-looking, well-designed holes of Alpine will challenge the best, while also having a lot of lovely vegetation and, for Bangkok, an abundance of undulations and earth mounding.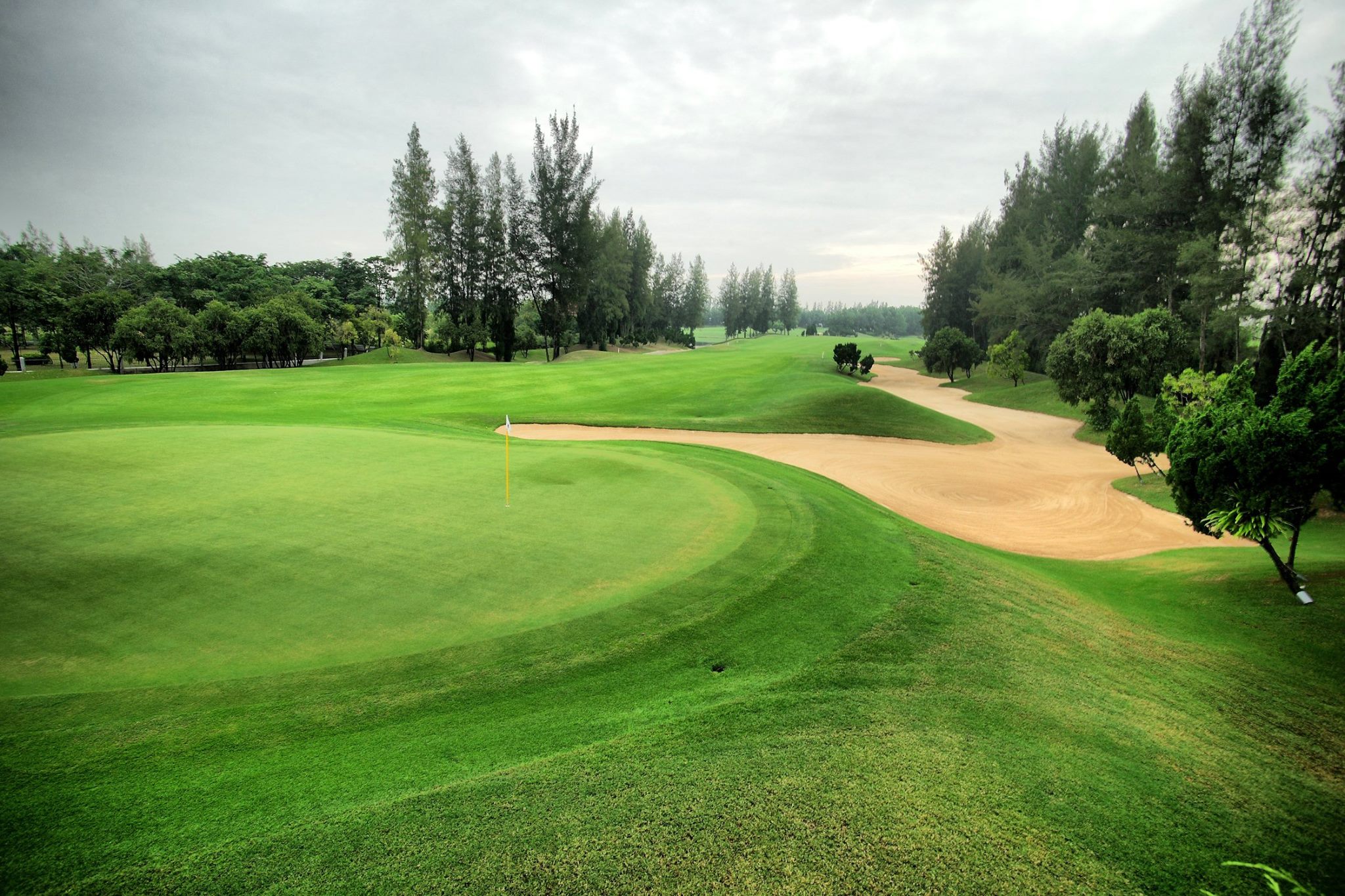 Thai Country Club
The world-class Thai Country Club would have to be on our list of the best golf courses, especially being a course that the great Tiger Woods has also played here. Despite its difficulty, it is widely regarded as one of the finest courses in Thailand by seasoned golfers due to its diversity of holes and well-groomed fairways.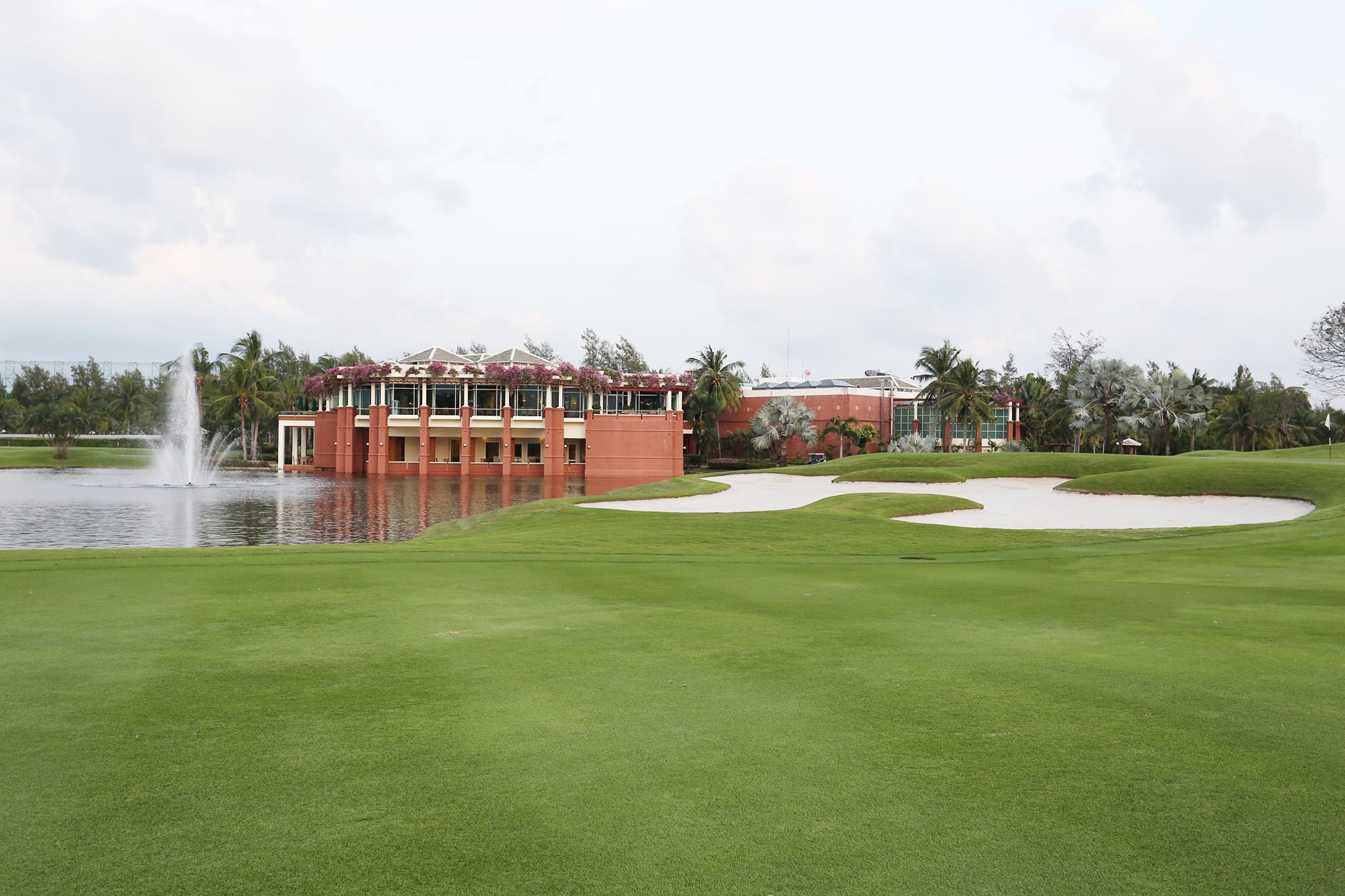 The Thai Country Club, designed by Denis Griffith to US PGA international standards and featuring such features as numerous water and sand traps, a course length of between 6,105 and 7,157 yards, so a challenging course for even the world's best players.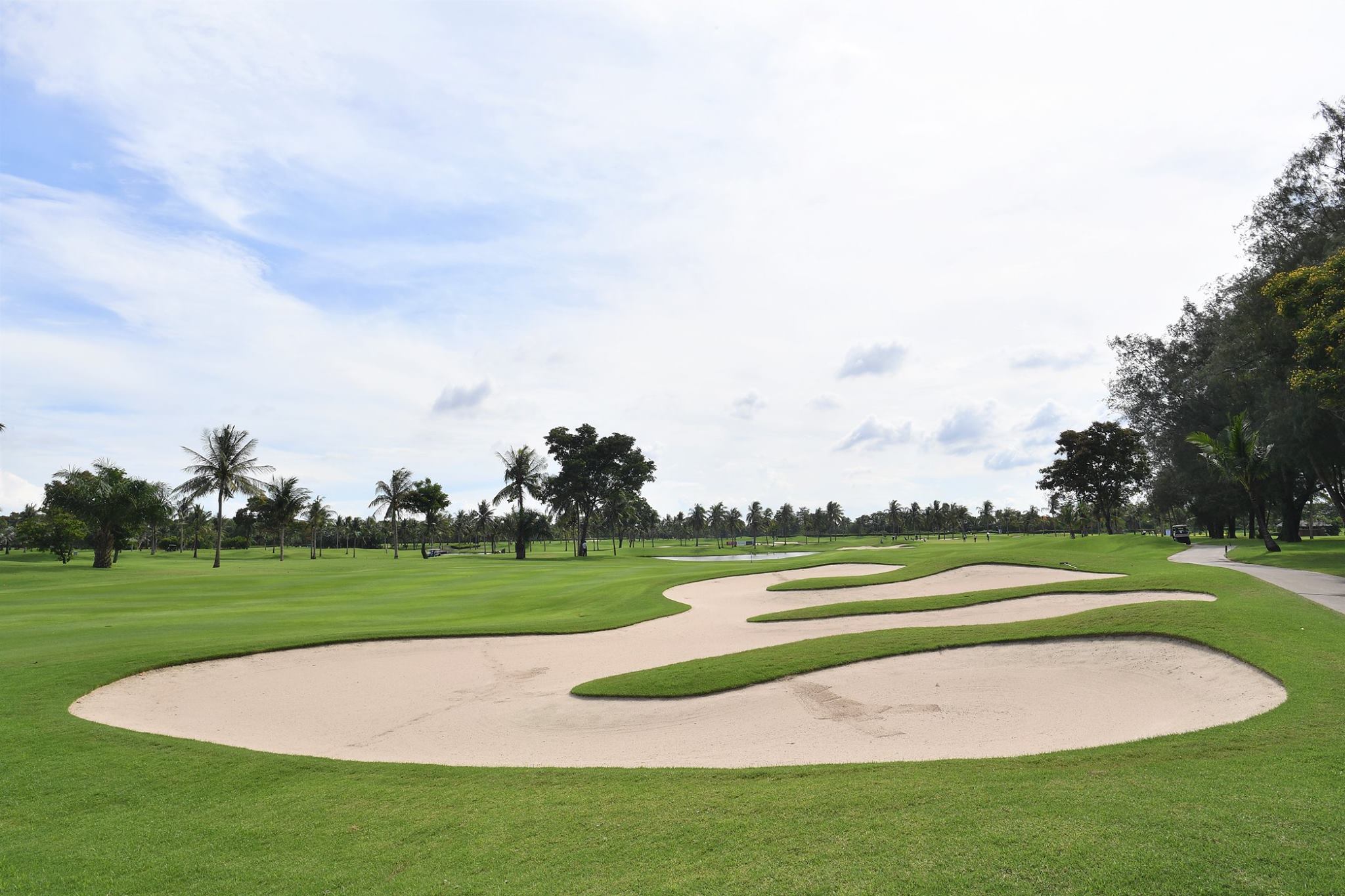 The golf course requires excellent game management because it has been shaped with many bumps and hollows, the fairway and greenside bunkers are well placed, thus precise shotmaking is required. You can usually locate your ball if you go offline, but the clingy semi-rough makes returning to the fairway a little more challenging.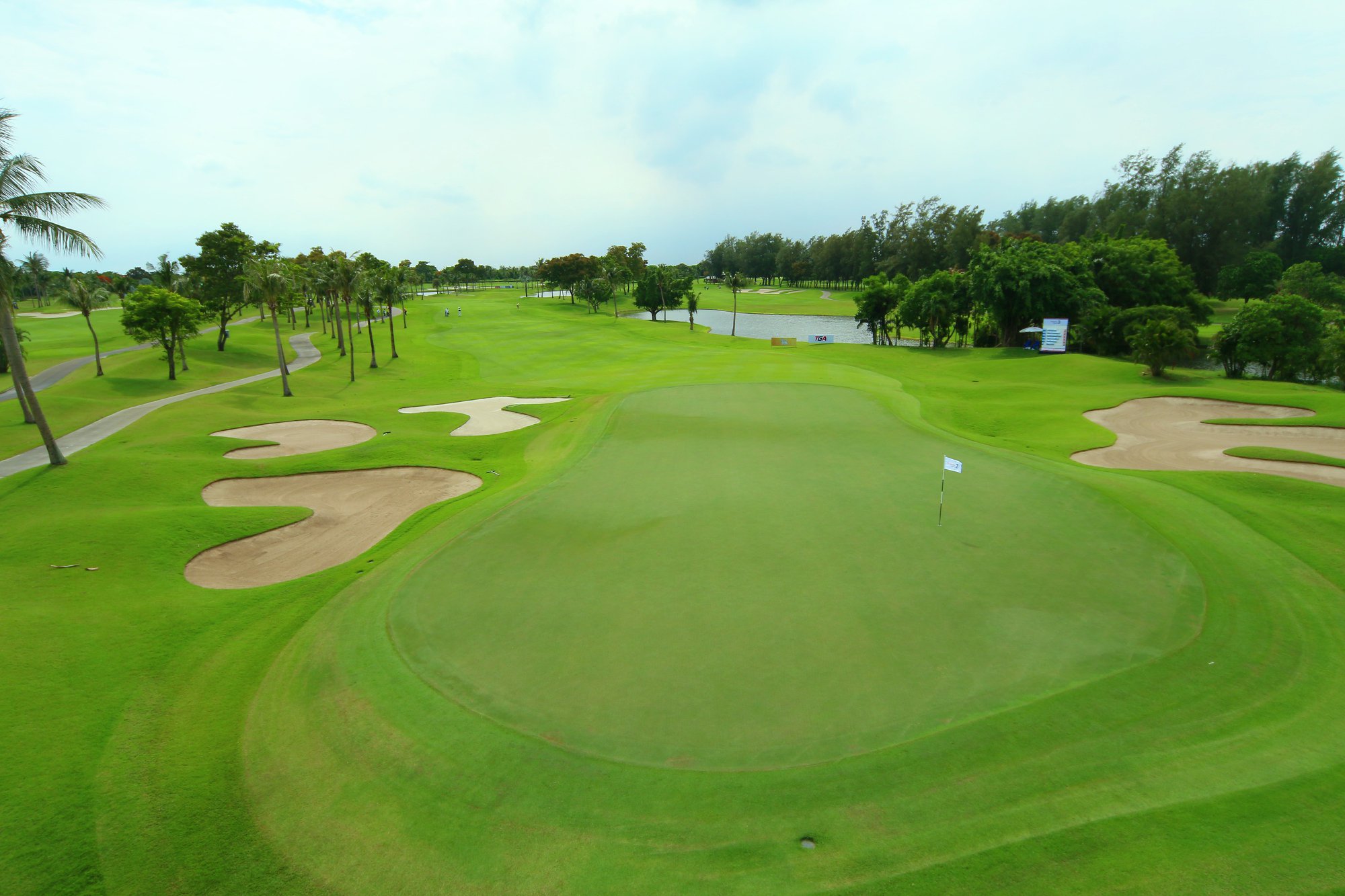 When you're not on the golf course at the Thai Country Club, you'll notice a difference in terms of quality of service and cuisine. The Peninsula Hotel Group manages the club, so you can expect nothing less than top-notch service and cuisine from a 5-star hotel.
The Royal Gems Golf City
This unusual replica golf course gives golfers a unique chance to fulfill their aspirations of playing on some of the world's most famous holes. Bangkok city center is just a stone's throw away from this unusual course, which visitors can play while still fantasizing that they are on St Andrews or Augusta's hallowed turf.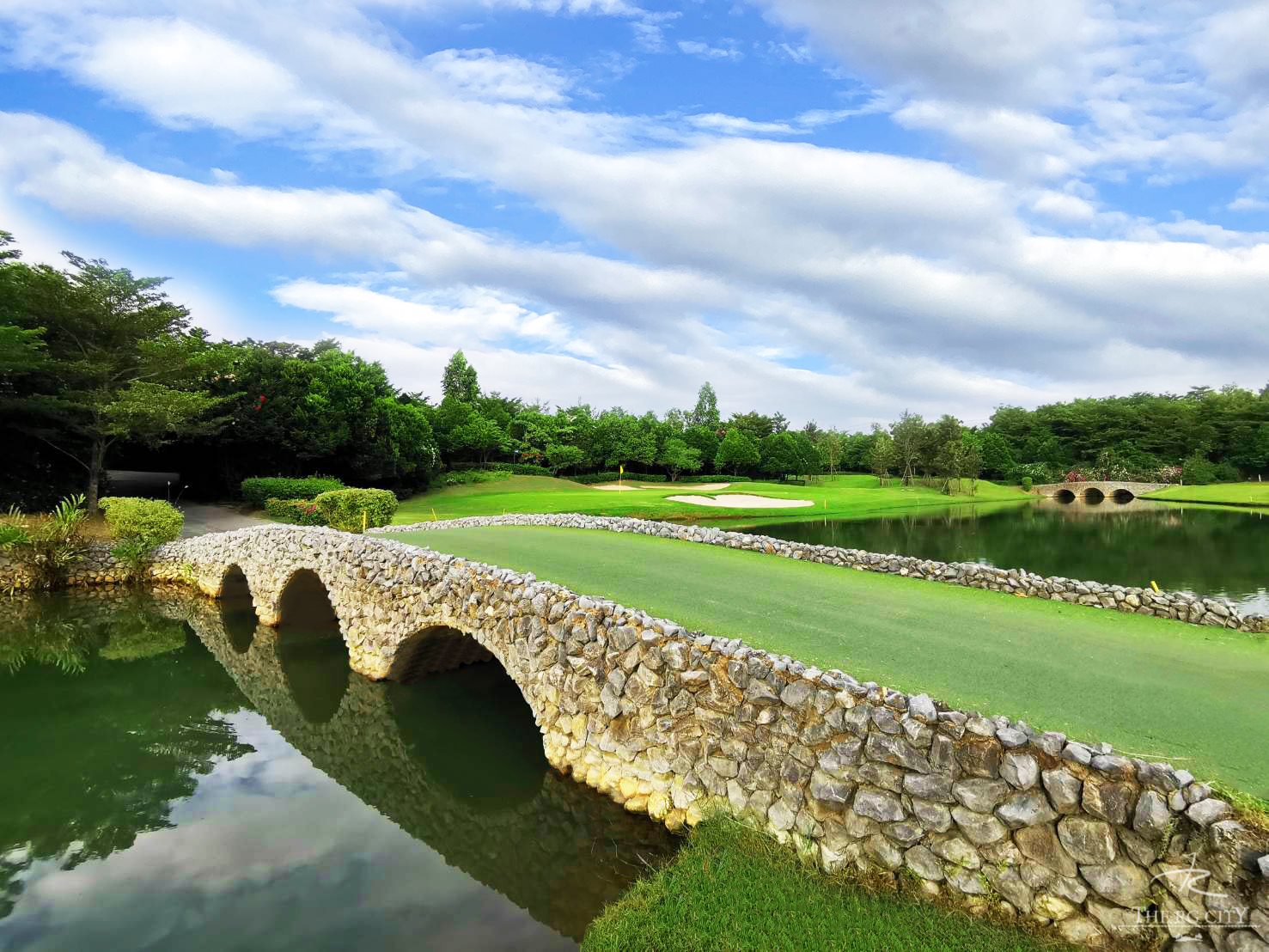 The back nine was copied from Augusta National, including Amen Corner. The course's plentiful water and sand traps make it difficult for golfers of all levels to enjoy, but those who choose the right tee box will appreciate this wonderful course, which is as close as most of us will ever get to playing at Augusta.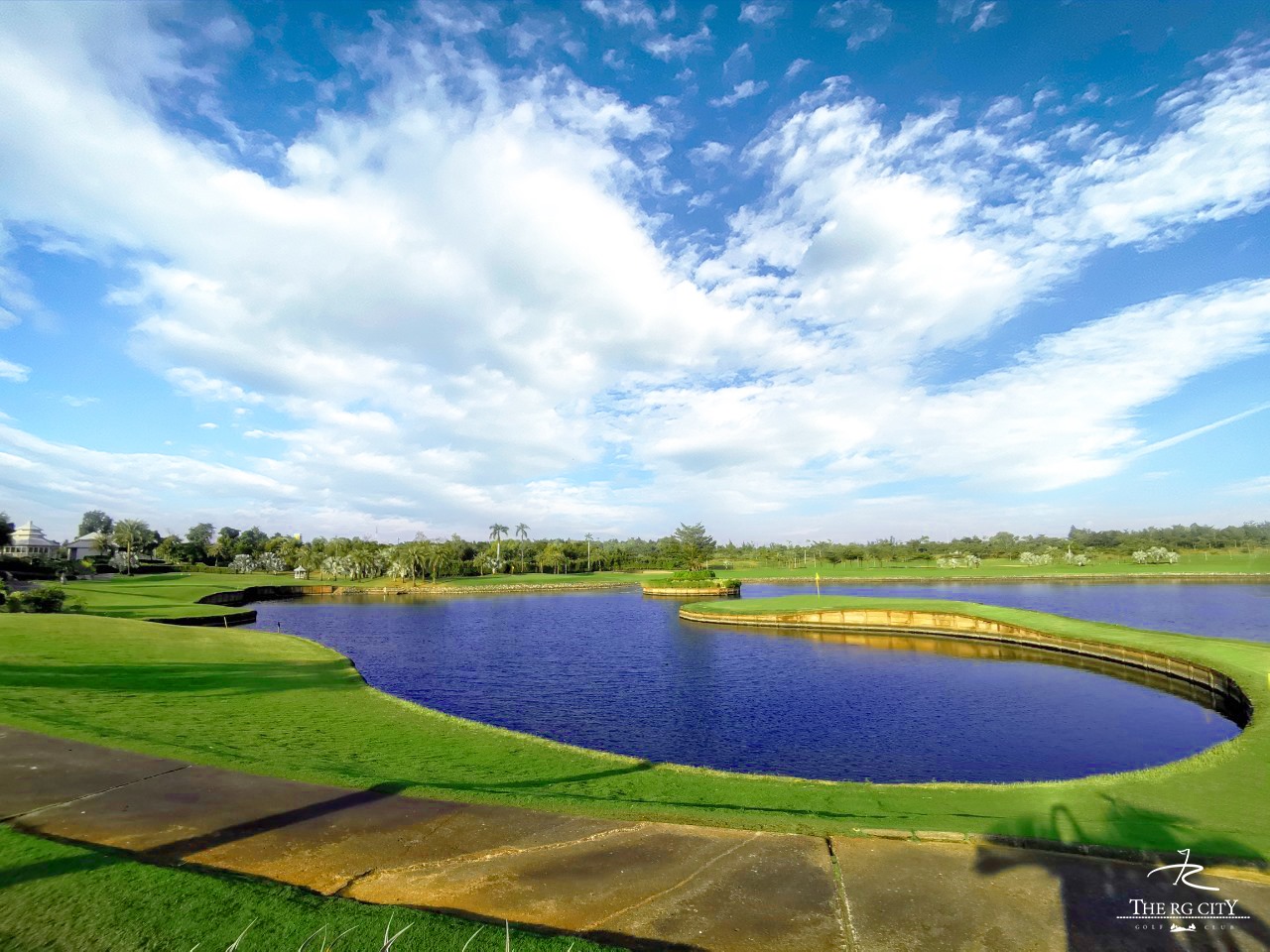 Other imitation holes include the 17th at Sawgrass, the 3rd hole at Oakmond and the postage stamp at Royal Toon.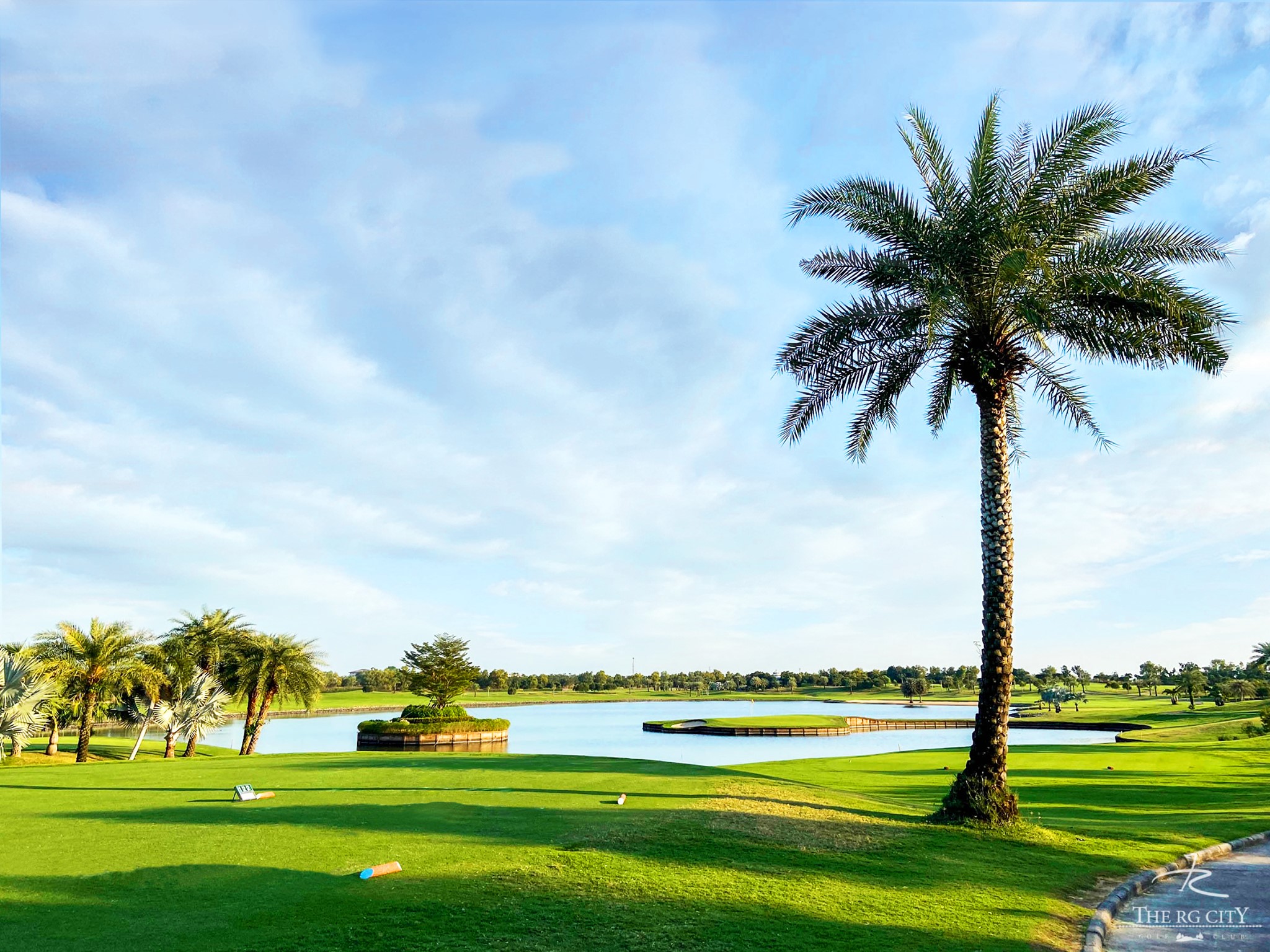 Nikanti Golf Club
Nikanti is a three-loop course rather than the traditional front and back nine, which distinguishes it from the other courses in the region. In addition, because of its wide fairways and a course that measures just 6,850 yards from black tees there are plenty of birdie opportunities.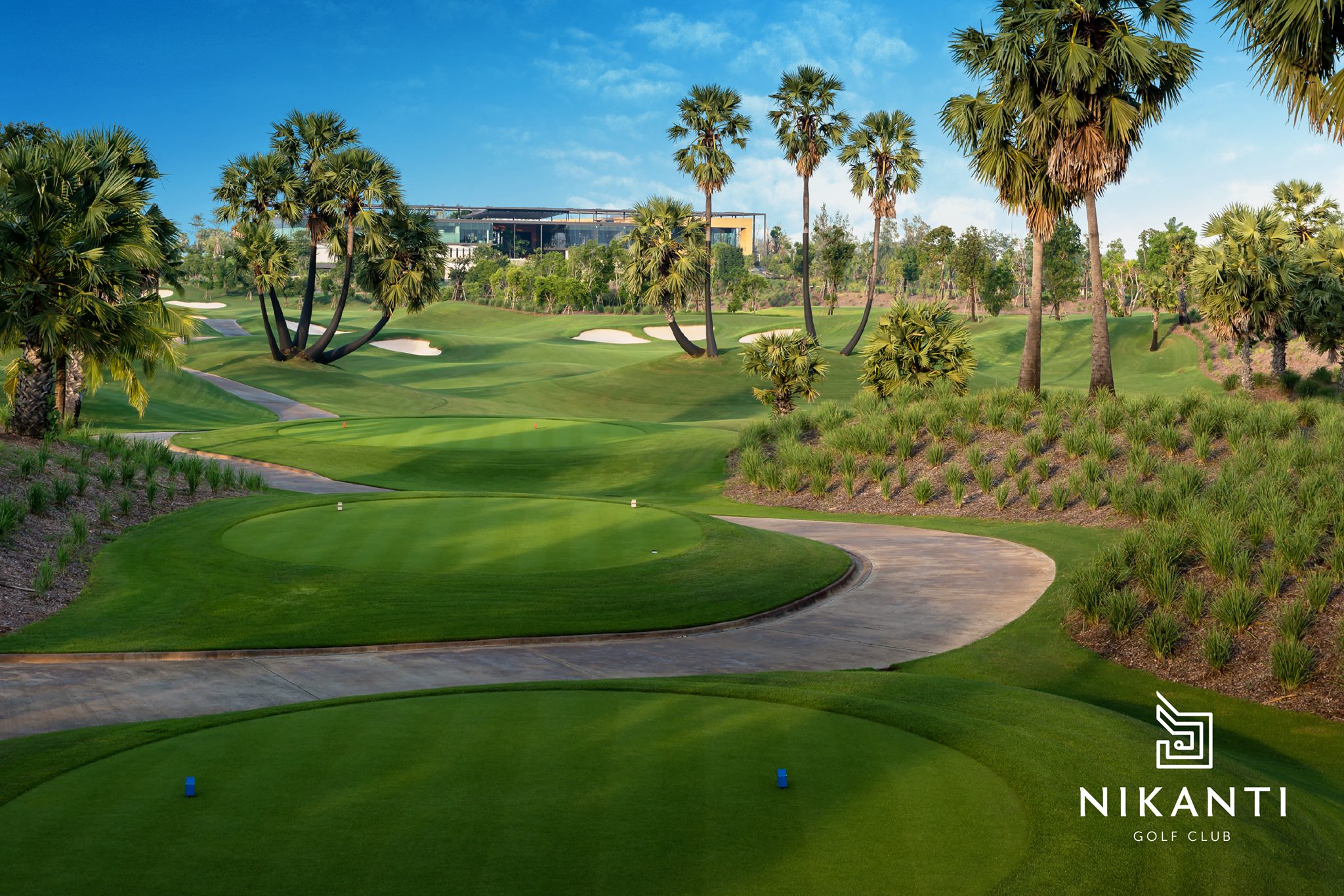 There are, however, several hazards to consider when playing at Nikanti. With its height variations and lightning-quick and contoured greens, don't underestimate the difficulties you'll encounter around here. The facilities provided by the course are a plus, with 15-minute tee times ensuring a good pace of play. This is an entirely inclusive course that includes all fees, including a fantastic meal before and after your game.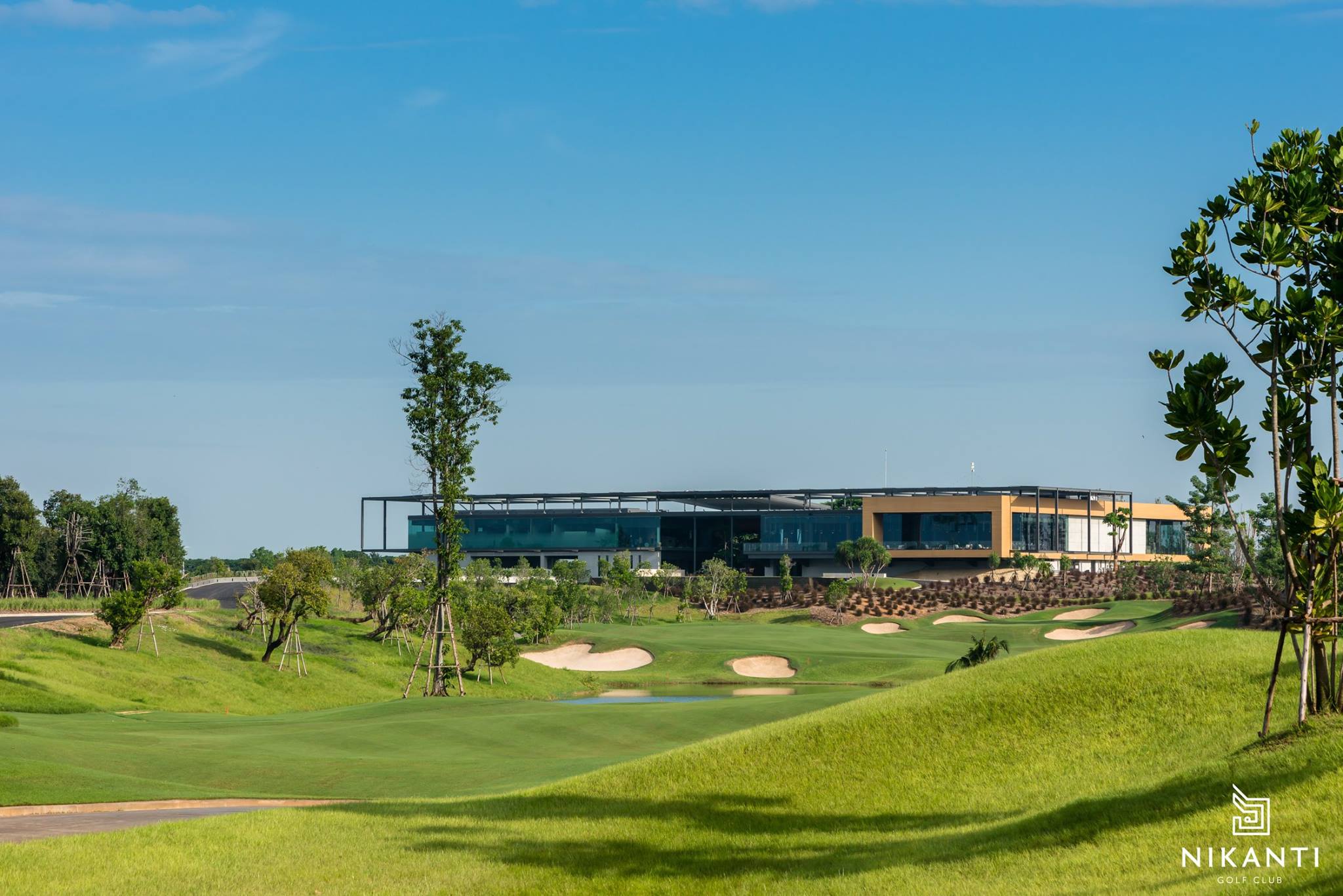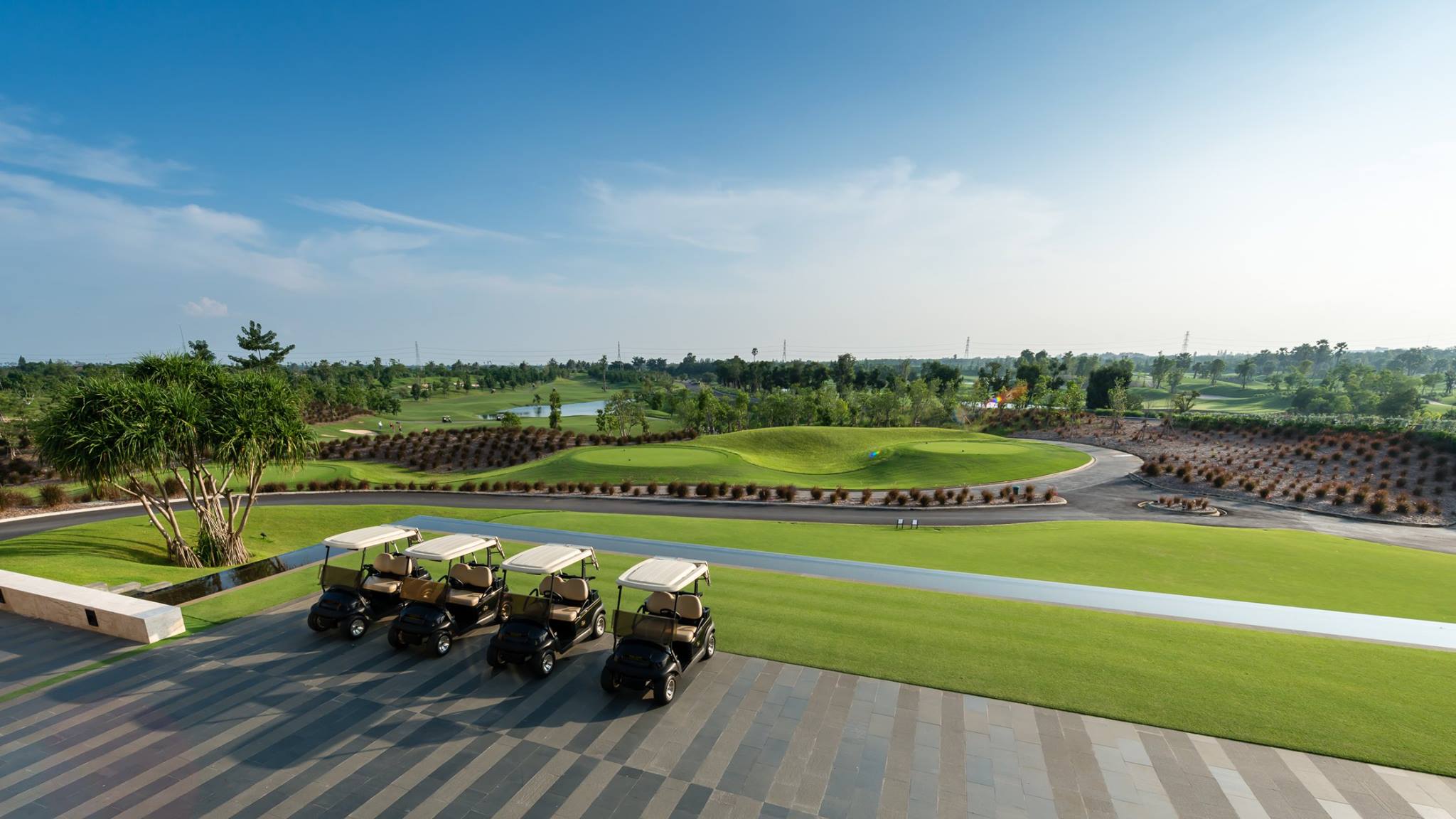 Muang Kaew Golf Course
The wide and receptive fairways, high-lip bunkers, shaved fringes and its distinctive green contours make it well-known around the Bangkok golf scene.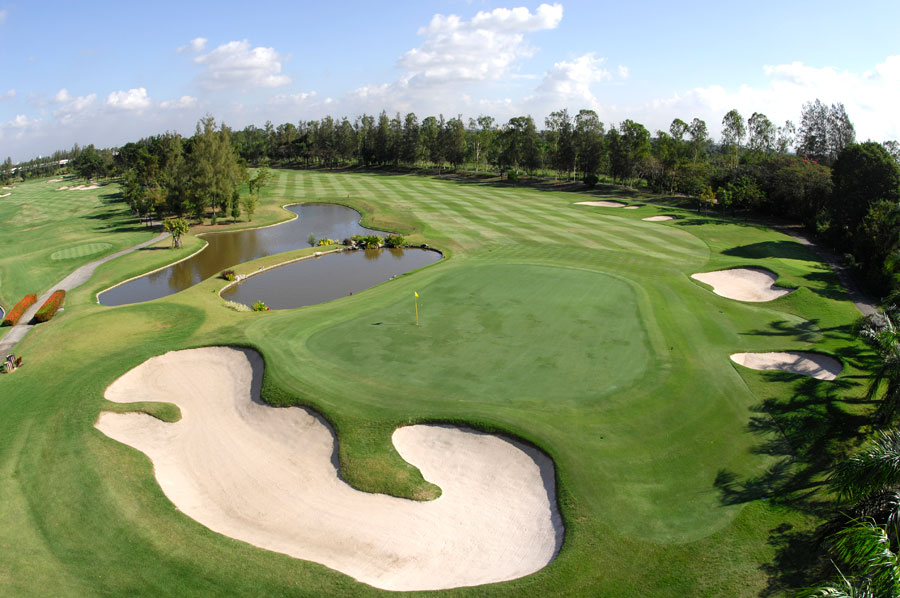 Each of the holes at Muang Kaew Golf Course, has been designed with a certain flair, from tight fairways to long undulating ones. Water hazards abound on this course, which makes for a thrilling round. The back nine is quite diverse, starting with the exciting risk-reward par-5, where players have a blind tee shot and an approach shot over a huge and intimidating water hazard.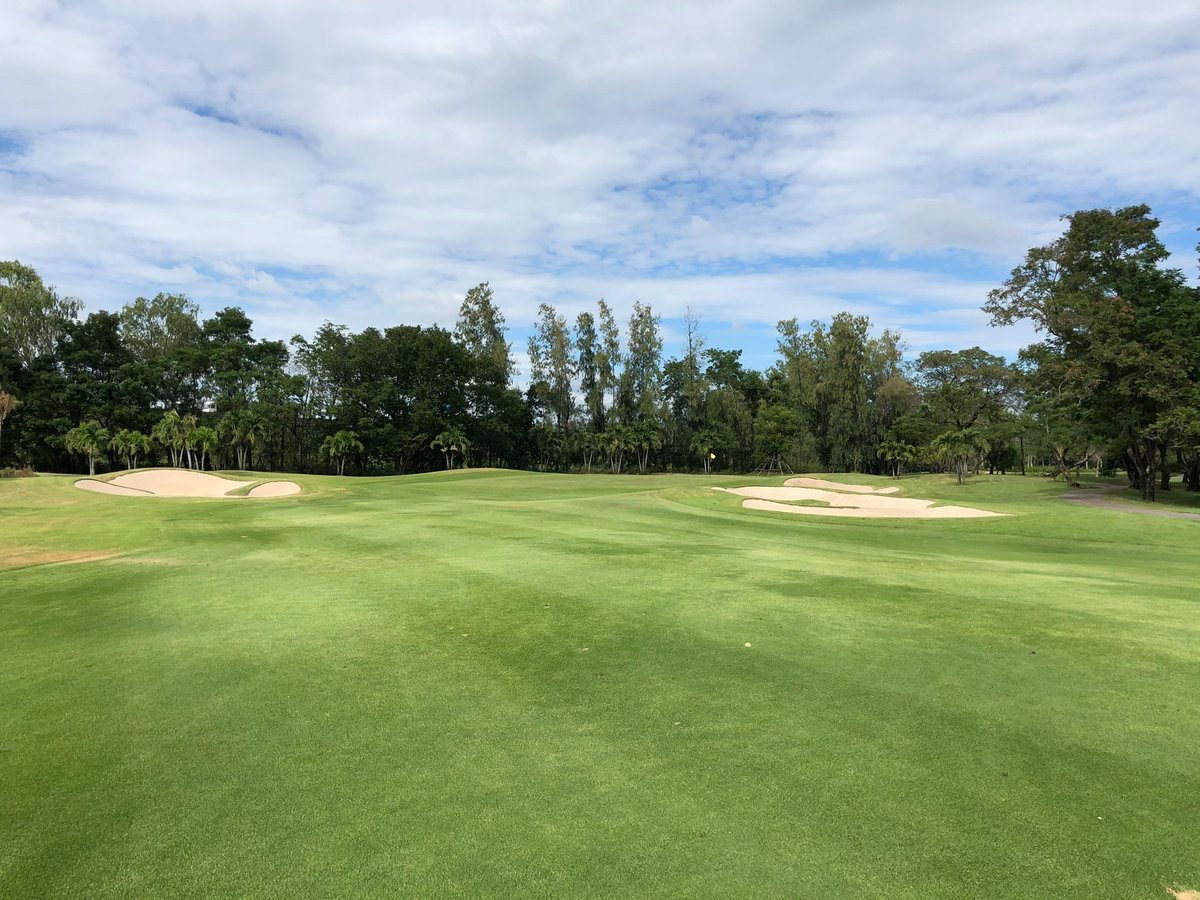 For those new to the game or shorter hitters, you may chew off a portion of the dogleg to enable a two-shot chance at reaching the green in two. The last hole is a deceptive par-5 with a watery conclusion into a blind pond guarding the green if you attempt any approach shots short and right.
Even though the layout is not as visually stunning as some of its neighbors, the service and cuisine compensate for this, with some of Bangkok's greatest meals available. The course is flat and easy to walk, making golf carts optional due to its proximity to Bangkok.
Thana City Golf & Country Club
Thana City Golf & Country Club is located just outside of Bangkok and features 36 holes of golf, making it perfect for a day trip.
The surrounding indigenous trees are used to create a links-style course in the midst of one of Bangkok's largest condominium projects, as designed by Greg Norman.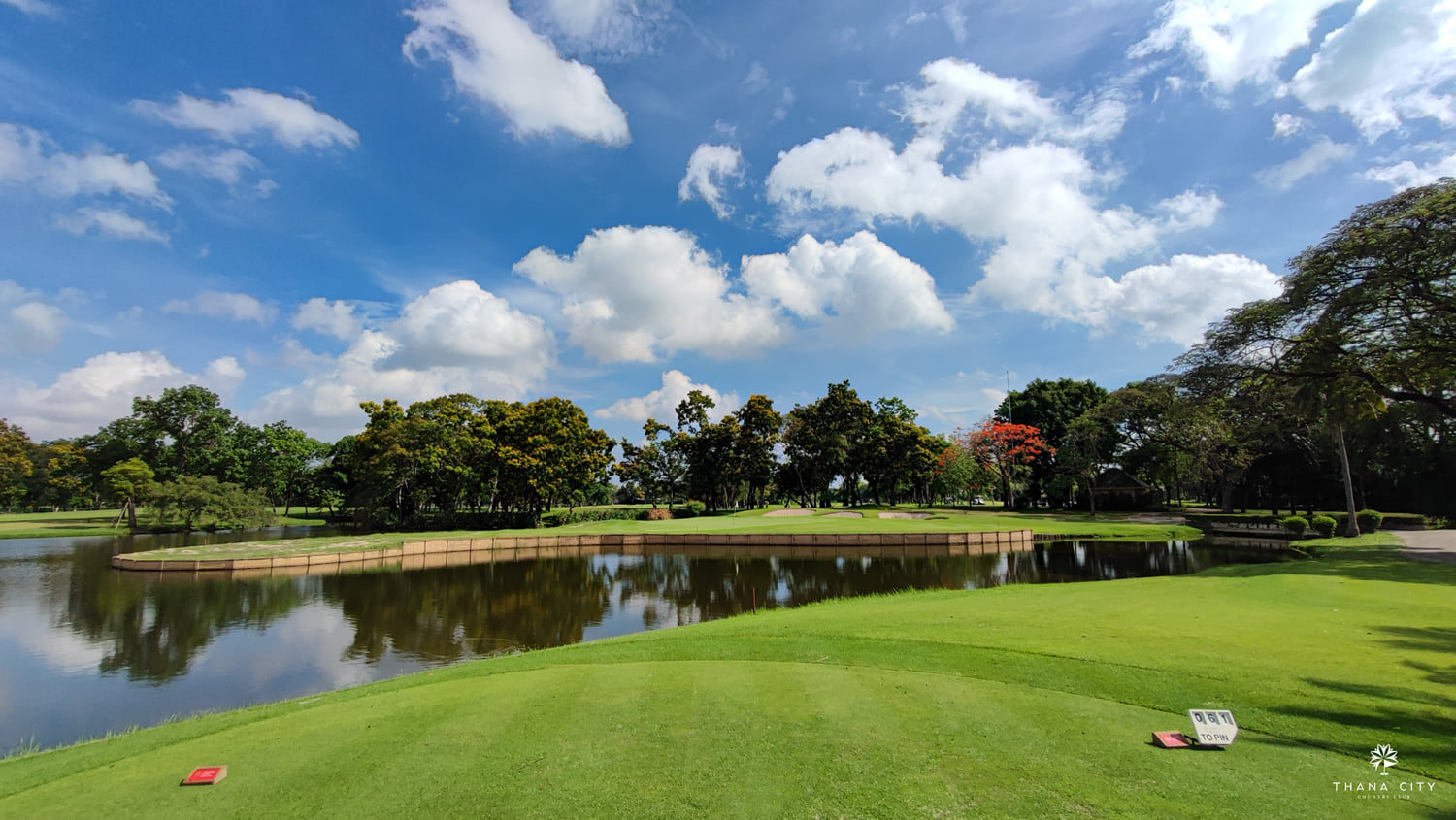 The numerous natural waterways and lakes that run throughout the course provide a significant obstacle for even the most skilled players, with an excellent variety of holes to challenge both your long and short games.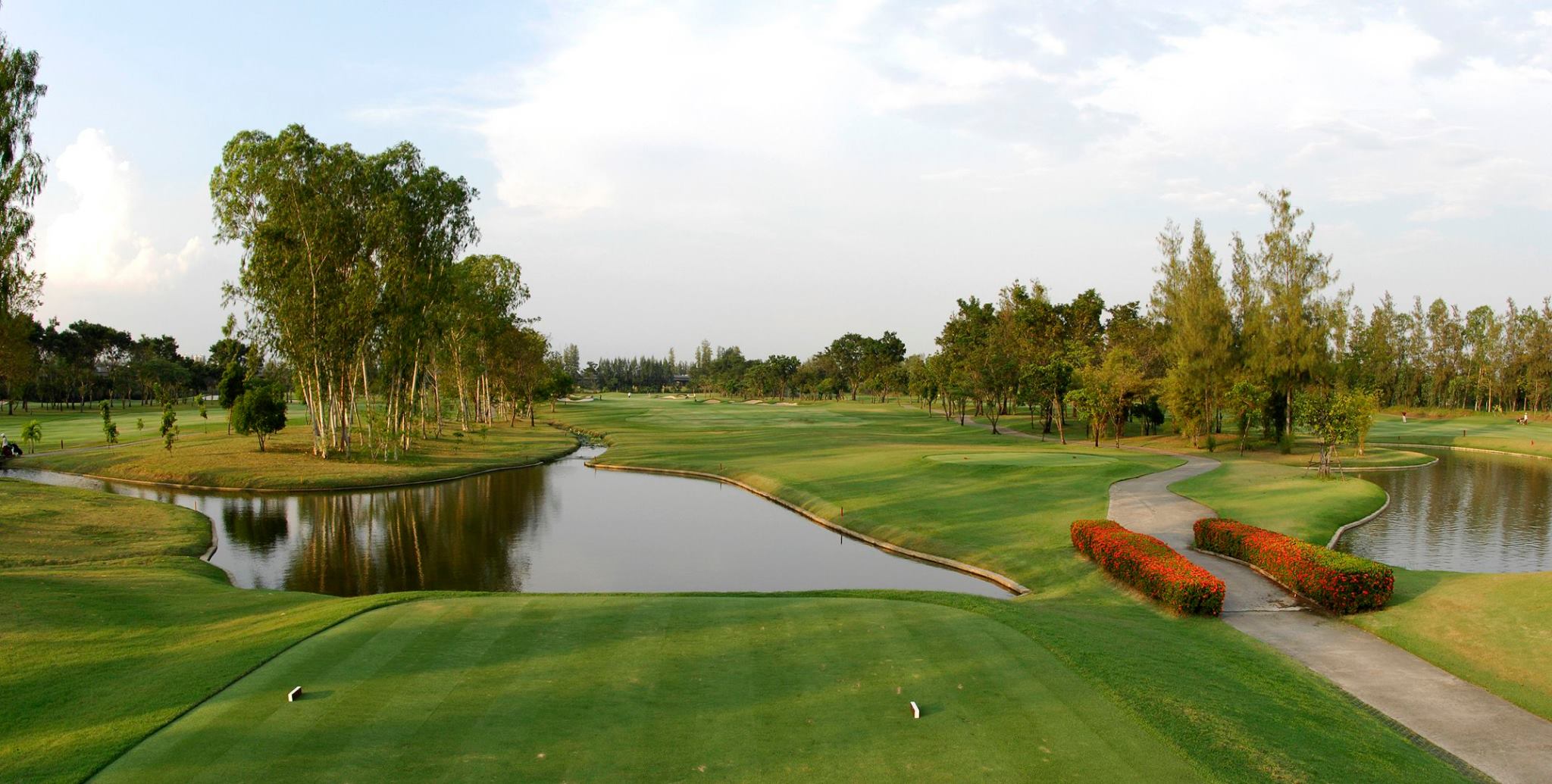 With four island greens, including the 3rd, 4th, and 5th holes, having an accurate approach shot or a spare set of balls is almost essential. The facility includes a well-kept clubhouse with practice areas and a swimming pool.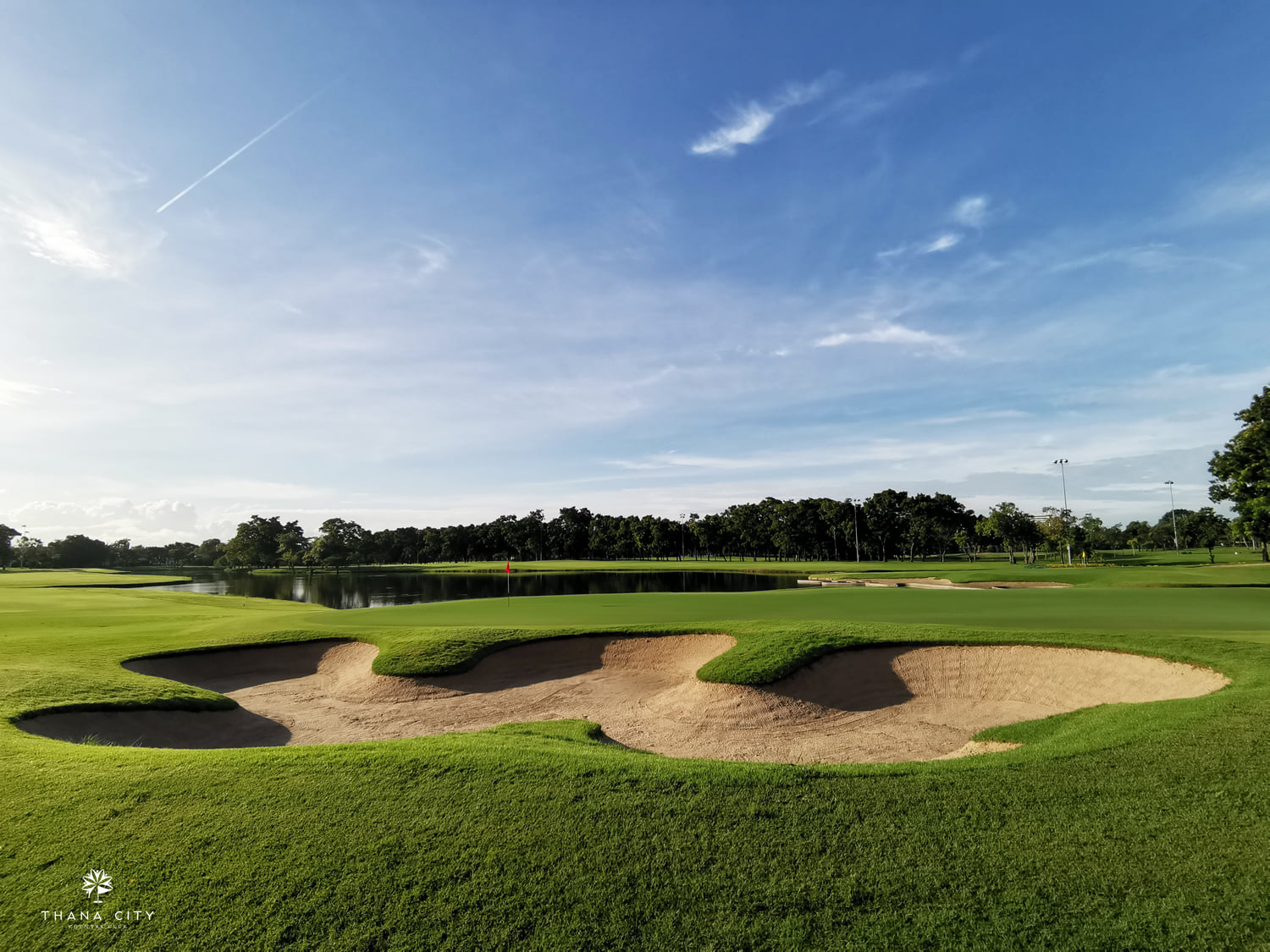 Bangkok Golf Club
Bangkok Golf Club is located 35 kilometers north of the city center, making it one of just a couple of golf courses in the region and constructed back in the 1990s. The club was home to numerous professional events, including the Asian Tour's Volvo Masters in 2003.
The golf course, on the other hand, was severely inundated in 2011 and all greens had to be rebuilt, as well as many of the older tees. As a result, in 2012 a friendlier course emerged. The present management of experienced staff has resulted in excellent conditions.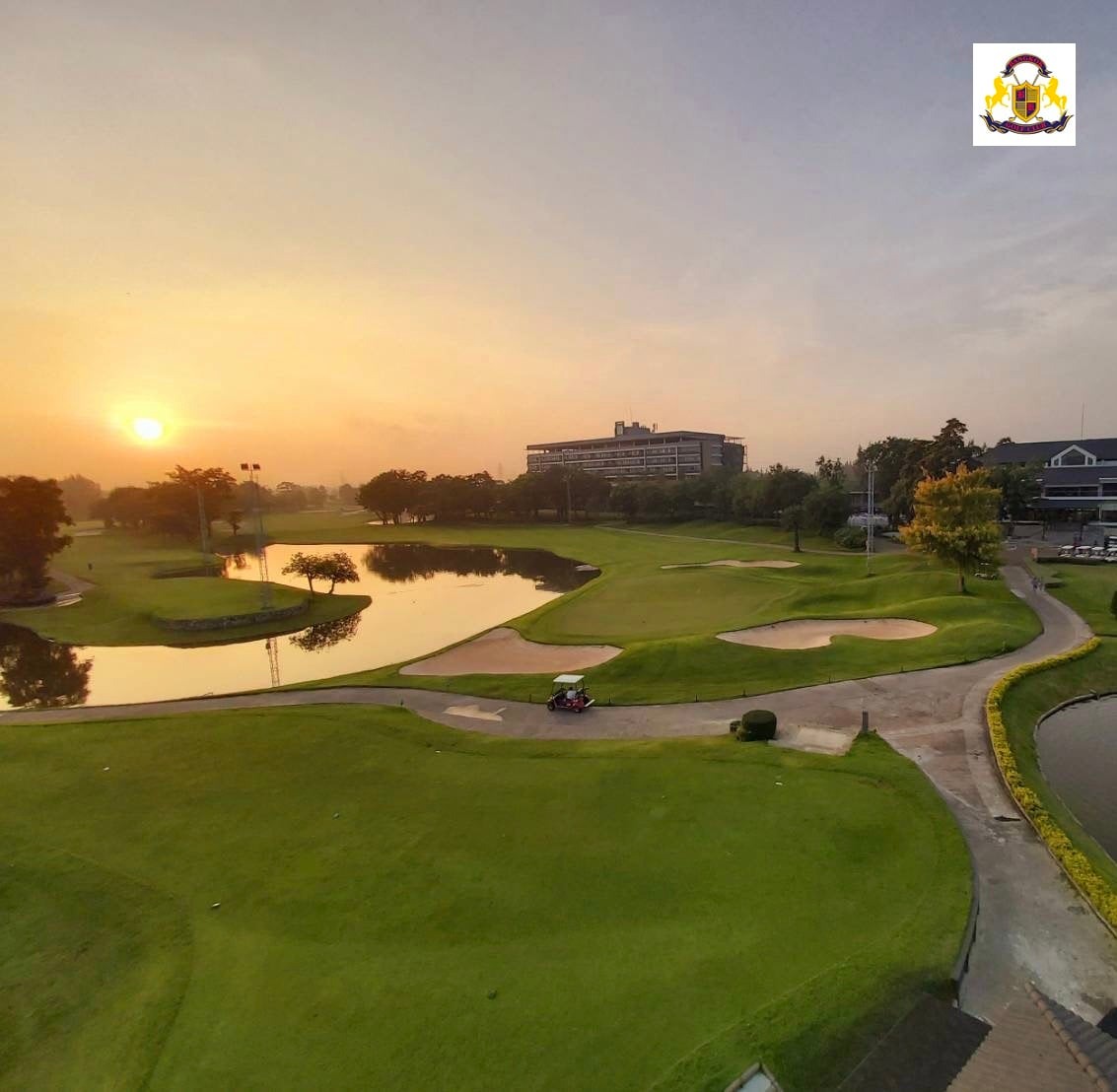 Around this Bangkok golf course are business buildings, a school, a Buddhist temple, some local homes, and a little other industry, but it's inside the high walls that the outside world melts away and a well-maintained and thoroughly entertaining golf course awaits the traveling Bangkok golfer.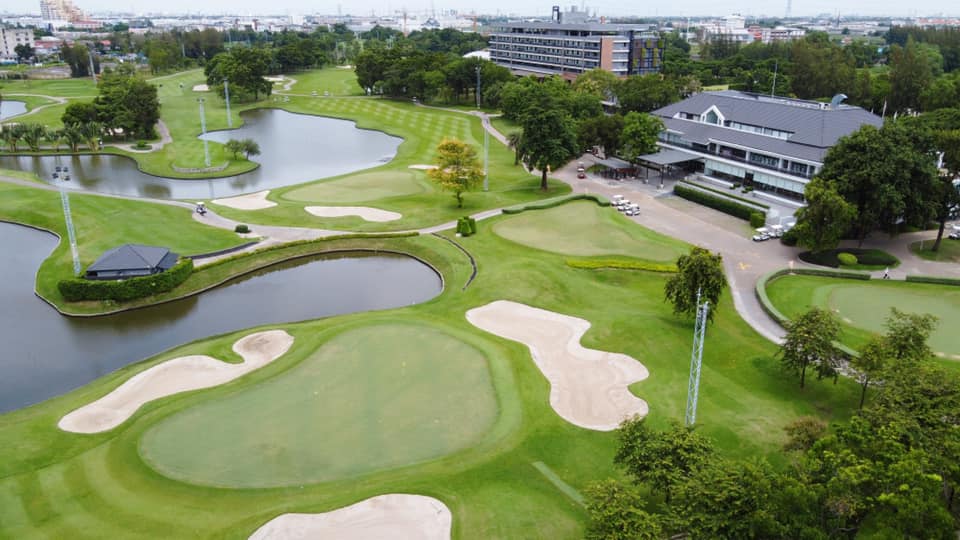 The greens are excellent, and the fast and undulating topography is enough to put a smile on your face. Thankfully, the caddies are well-versed in reading many slopes and borrow that distinguish putting surfaces.
Bangkok Golf Club's clubhouse offers Thai massage, a well-stocked golf pro shop, changing rooms, and a range of international and Japanese eateries. A putting green and separate chipping areas are available for practice.
Accommodations are also available for those who want to experience an all-inclusive Bangkok golf resort vacation package. For night golf, the Bangkok Golf Club is lit up.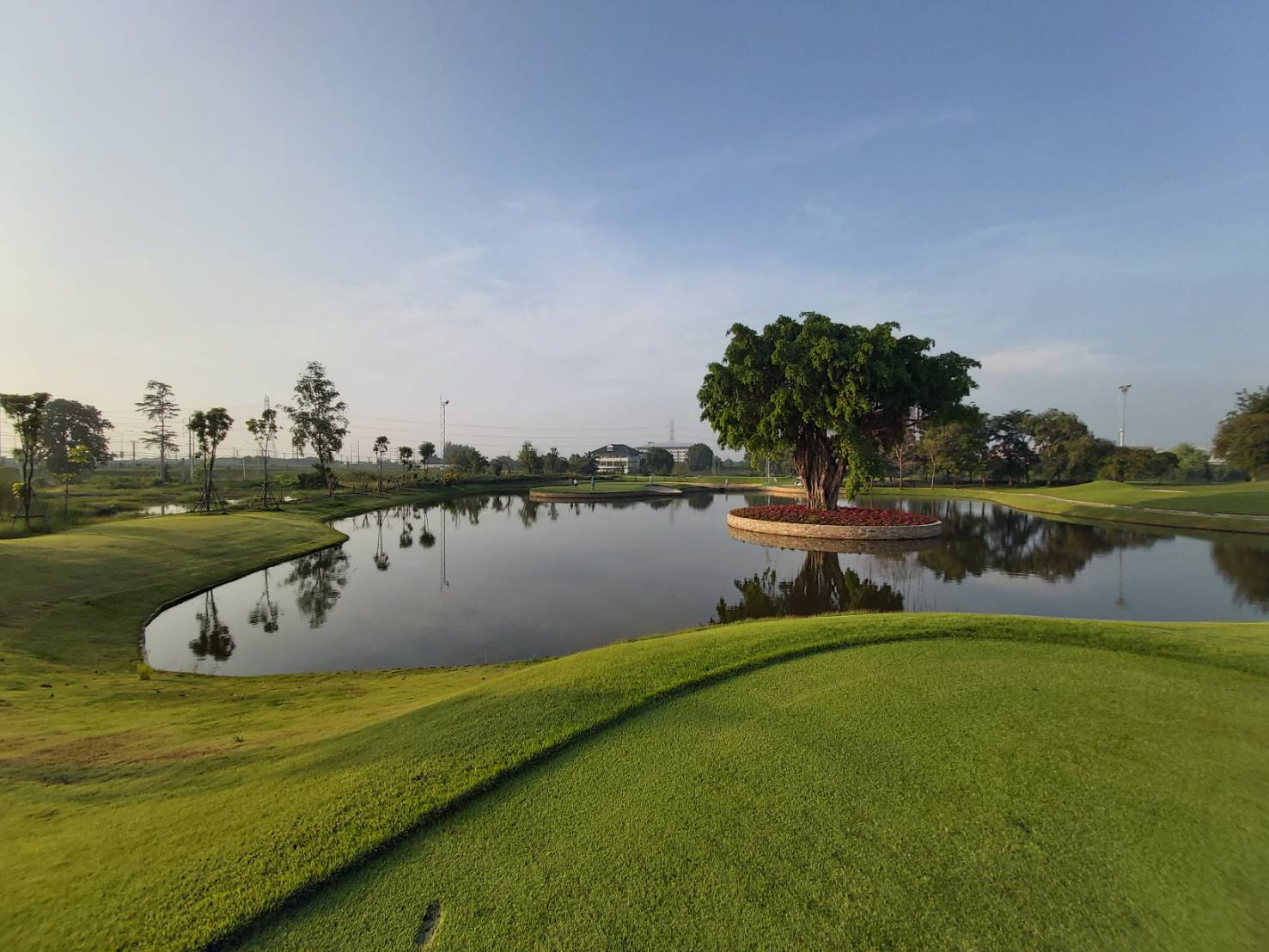 Lam Luk Ka Country Club
The Lam Luk Ka Country Club in Thailand's Chachoengsao Province is 36 holes of golf with excellent facilities. This one is a little further out from Bangkok but well worth the travel. Both 18-hole golf courses at Lam Luk Ka are seldom congested, so generally, tee-off times are easier to obtain and green fees cost less than most other Bangkok golf courses.
The upper and lower sections of the route follow a canal that runs along both sides of Bangkok's wetlands, hundreds of birds and animals call this area home.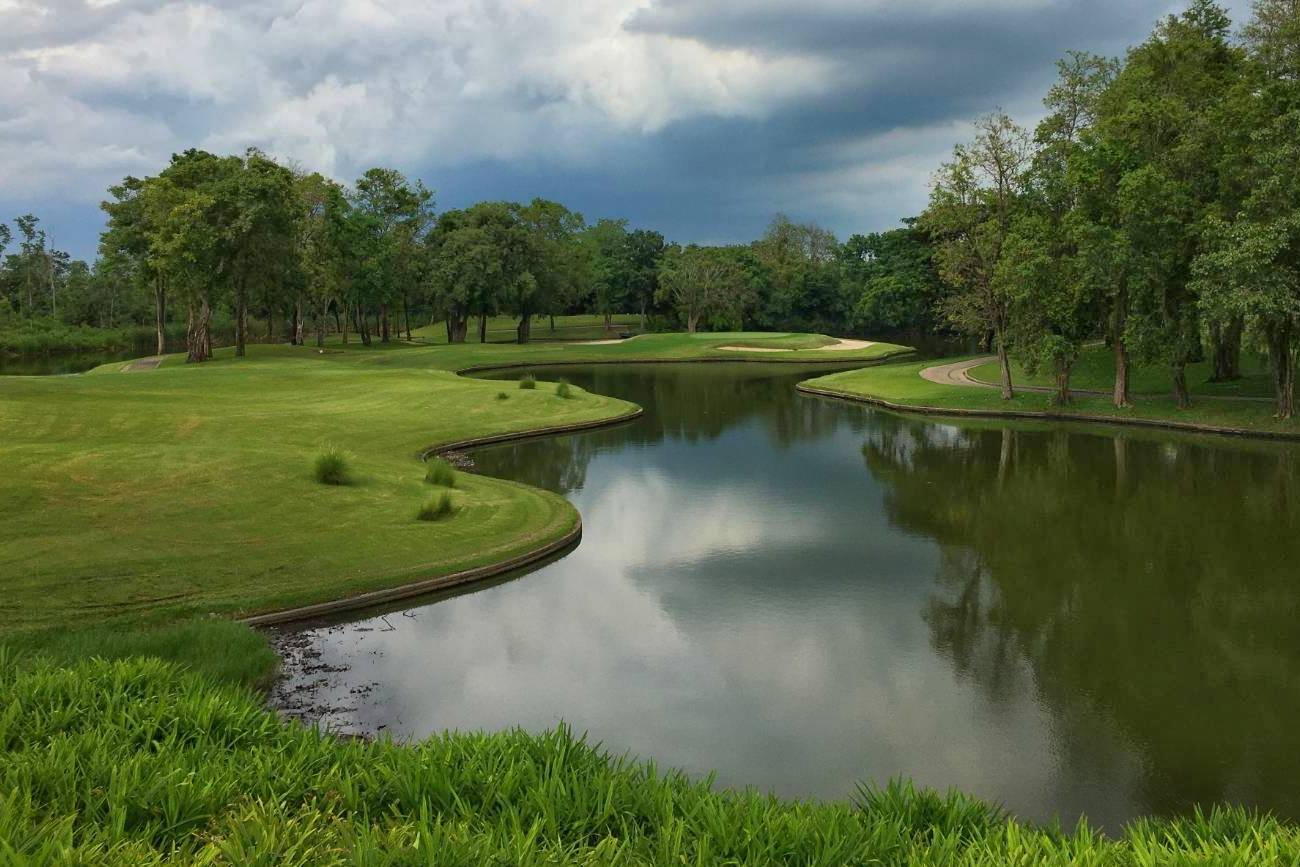 On any given day, four relatively similar nine-hole loops may be used interchangeably on the Championship East Course and Resort West Course, which are located in this natural, rural setting away from the city's bustle. The A & B nines are on the Championship East Course, while the C & D loops are on the Resort West Course.
Although they are separated by very little in terms of presentation and upkeep, which is usually first class, the East Course is slightly longer than the West Course and more difficult as a result. Water is present in most holes on both courses. The fairways are generally wide so ball-finding from wayward shots should not be too challenging.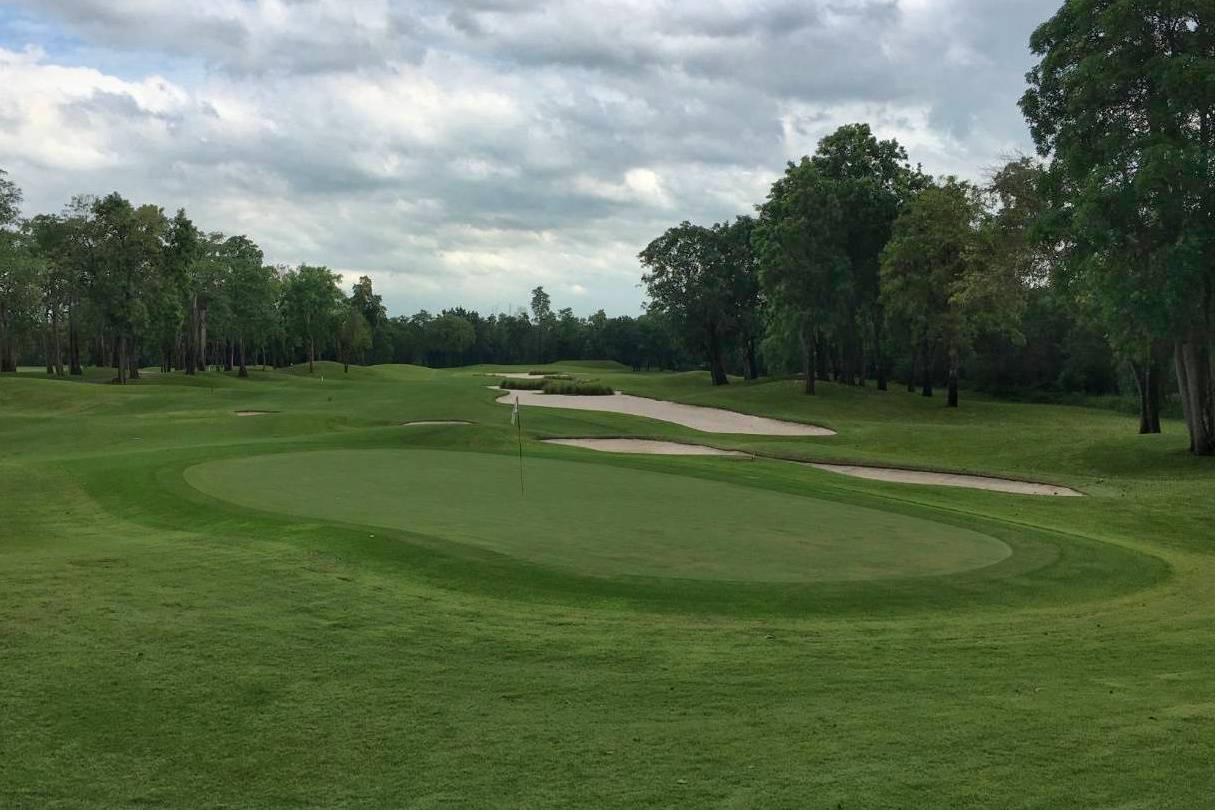 The Championship East Course emphasizes driving the ball far and straight. The Lam Luk Ka East Course, which hosted the 2002 Thailand PGA Championship as well as the 2009 Asian Tour qualifying events, is a difficult but interesting course to play from the much friendlier white tees.
The West Course is a relatively brief 18-hole course, but water comes into play on 15 holes, making course management a key factor in scoring. Every hole has several alternatives, so long hitters can still hit the driver although it's not necessary on most of them. The West Course is popular among tourists and recreational golfers because it is home to numerous indigenous birds and animals.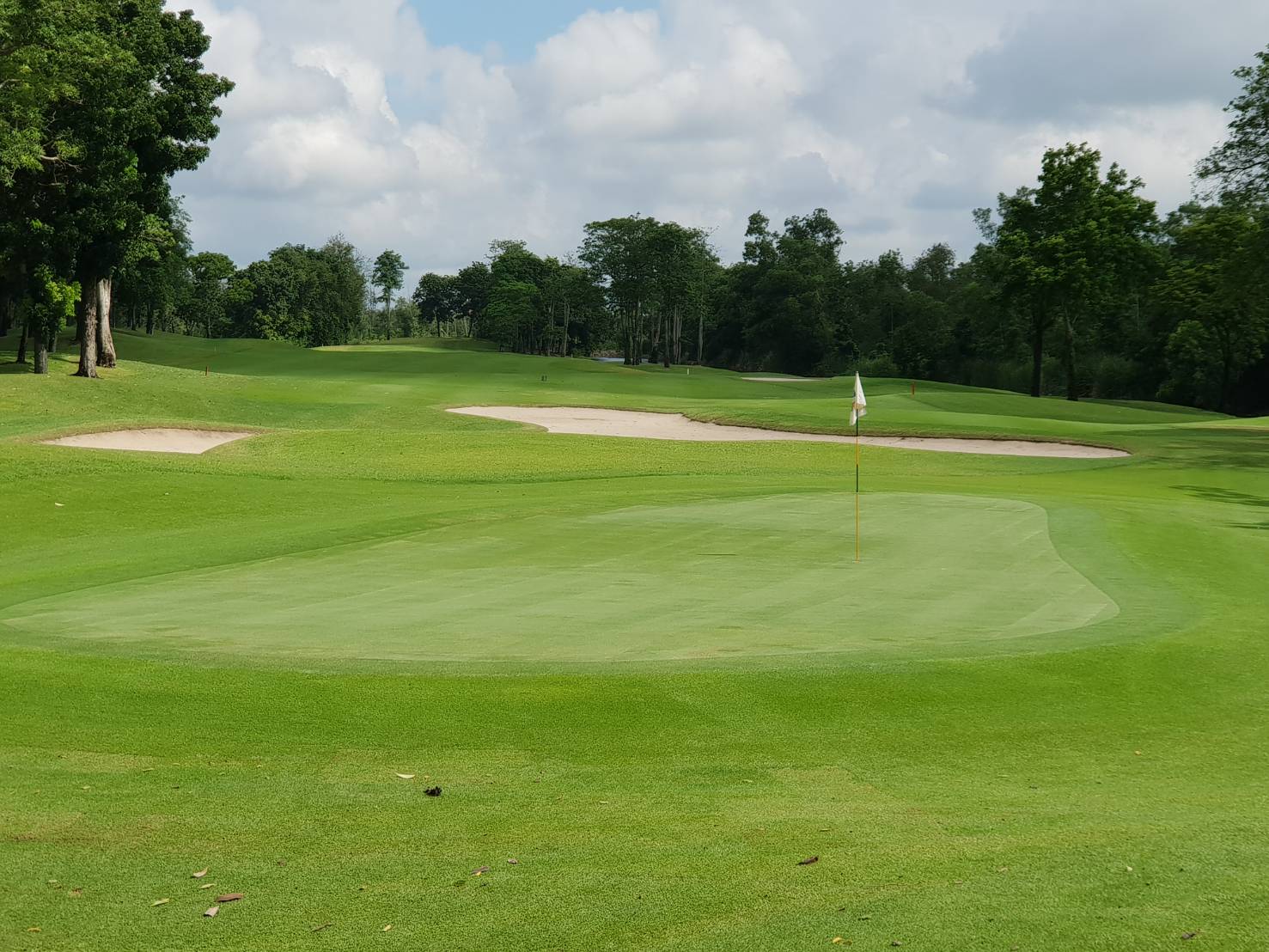 The grounds are accessed through a few narrow roads that wind around a pond and past the small clubhouse. The clubhouse, despite its age, offers all of the amenities for the golfer. Golfers may unwind and swim in the Olympic-sized swimming pool or sample Thai or foreign cuisine in the club's restaurant overhanging the 18th hole on the East Course after a round at Lam Luk Ka. The driving range is a grass range with two chipping and putting greens for practice before or after the round. Overall, Lam Luk Ka is an excellent golf course with one of Bangkok's best values.
Siam Country Club Bangkok
The 5th edition of Thailand's Siam Country Club is Siam Country Club Bangkok, which features an 18-hole championship layout that plays 7,250 yards and employs Zoysia grass for fairways and ultra-dwarf Bermuda grass for greens. After collaborating with Coore & Crenshaw and Tom Doak, Cobb produced his first solo project in Bangkok.
The fairways at this Siam Bangkok golf course are quite different from those in the region. The course contains elements of both parkland and a links course. The fairways are abundantly broad, with mild undulating fairways. The pristine environment provides golfers with a sense of awe and wonder, as well as ensures that the course is always in excellent condition. Beautiful bunker complexes and catchment areas, along with stunning mounding frames on many holes, are used effectively to leverage native red grass. The off-fairway semi-rough is shortened for everyone's enjoyment.
There are very few water holes on the course, all of which have unique characteristics in comparison to other Bangkok golf courses. Potted grass is utilized in several bunkers, with some being tiny and others big. The 18 turtle-back greens are complicated and difficult. Staying close to the middle of the greens is a good rule since on any given day there may be a difference of three clubs before you can reach the flag. Most golfers prefer to aim near the center of the green because it minimizes run-offs and chip shots that might be difficult.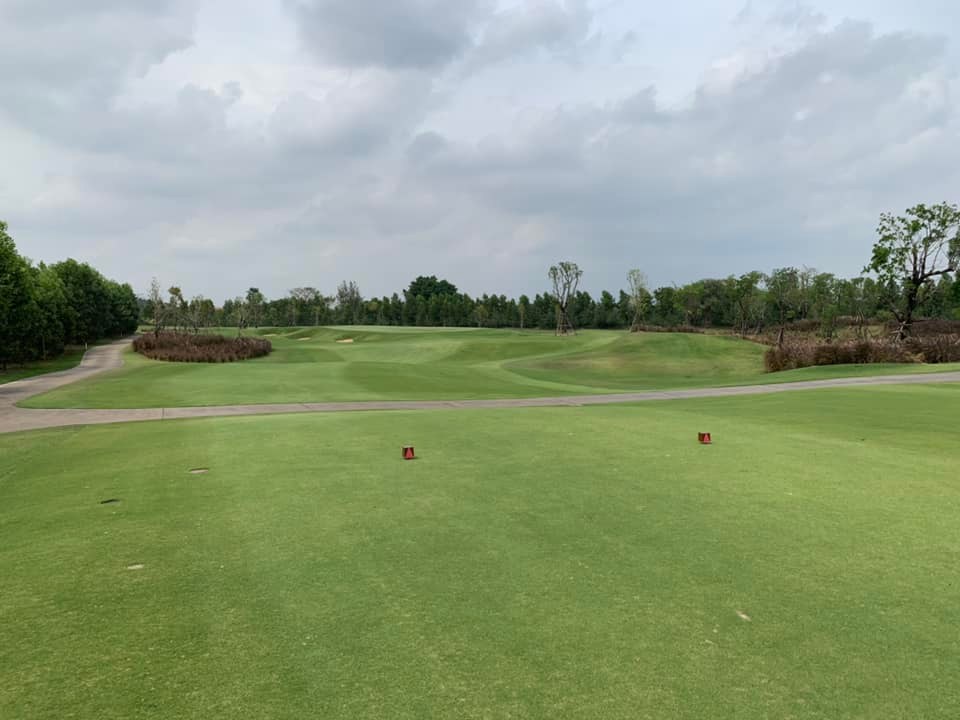 The contemporary 4,400 square-meter modern-built clubhouse resembles other Siam Country Club courses in the Pattaya region. Like those, this one is well-equipped with first-class changing rooms, a well-stocked pro shop, and a fantastic restaurant that specializes in Japanese cuisine. Caddies are educated to the highest degree possible and are some of the best in the neighboring courses.
Subhapruek Golf Course
The Bangna Country Club was renamed Subhapruek Golf Club after Pete Dye created it. The course is entirely natural, with just the tall white building, gold-colored domes, and spires of Assumption University rising above the trees lining the perimeter.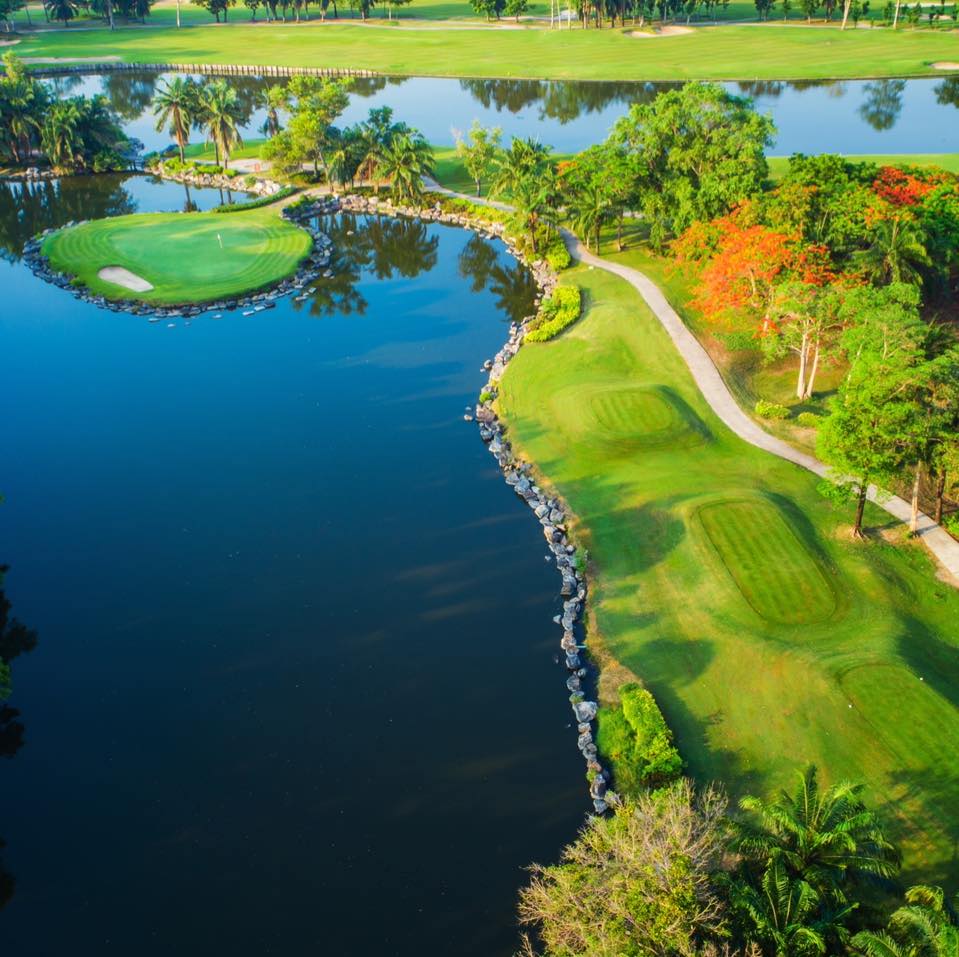 The course was built from flat boggy rice fields but has established itself as one of Bangkok's most beautiful golf courses. Palm trees line the fairways, bunkers shaped to test even the best golfers, significant water hazards everywhere, and mature trees characterize this golf course.
There is often a gentle breeze blowing on this course, and those who have played it before would confirm. Just under 6800 yards of golf provide a solid test for all skill levels of golfer. The real objective here is locating and remaining on the fairways which are not too difficult from the white tees but a challenge from the back tees.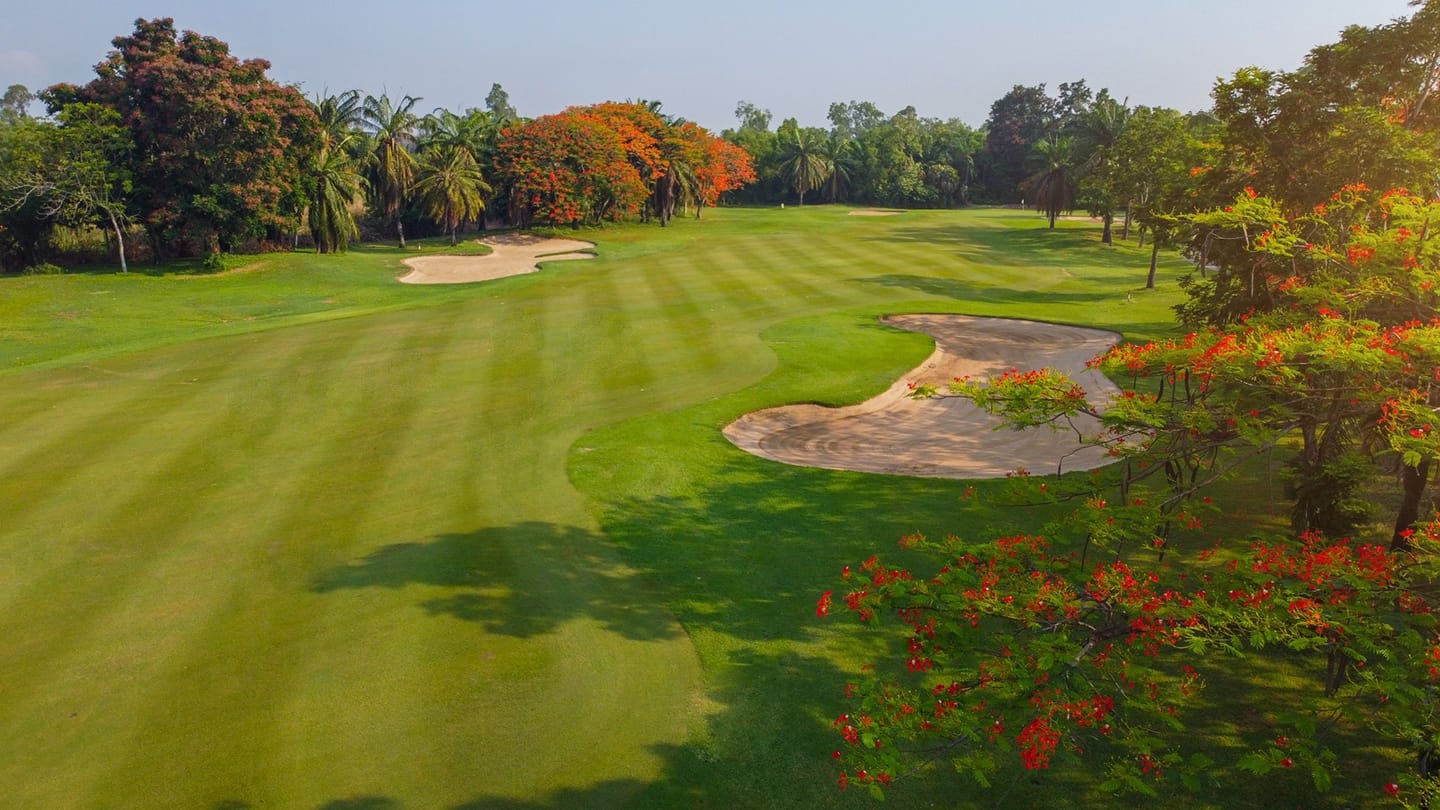 Subhapreuk's water comes into play on nearly every hole. The course isn't for golfers who hook or slice, and neither is it a long-hitters course. A shorter, more controlled game will trump a longer, errant one. Around the landing areas, the fairways appear to be narrow at first but quickly expand.
From the white tees, the par fours are short and may provide excellent stroke-saving possibilities. All of the par-3s are on the water, making them extremely difficult to master. It's a difficult but fair test of golf in Dye's distinctive style, and even higher handicappers have escape routes on more demanding holes.
The 8th dogleg, which slightly loops around a lake, and the 9th, which is also protected by water on the entire right side of the hole, are the highlights of Subhapreuk's holes. The real stars of Subhapreuk are the insanely closing holes. The island green par-3 16th is lovely; while the short par-4 17th, surrounded by water on three sides, is as difficult and testing as they come.
The same water hazard also appears on par-4 18th, which is similar to the TPC at Sawgrass' par-4 18th. This is one of Thailand's most gorgeous holes, with a waterfall in the background.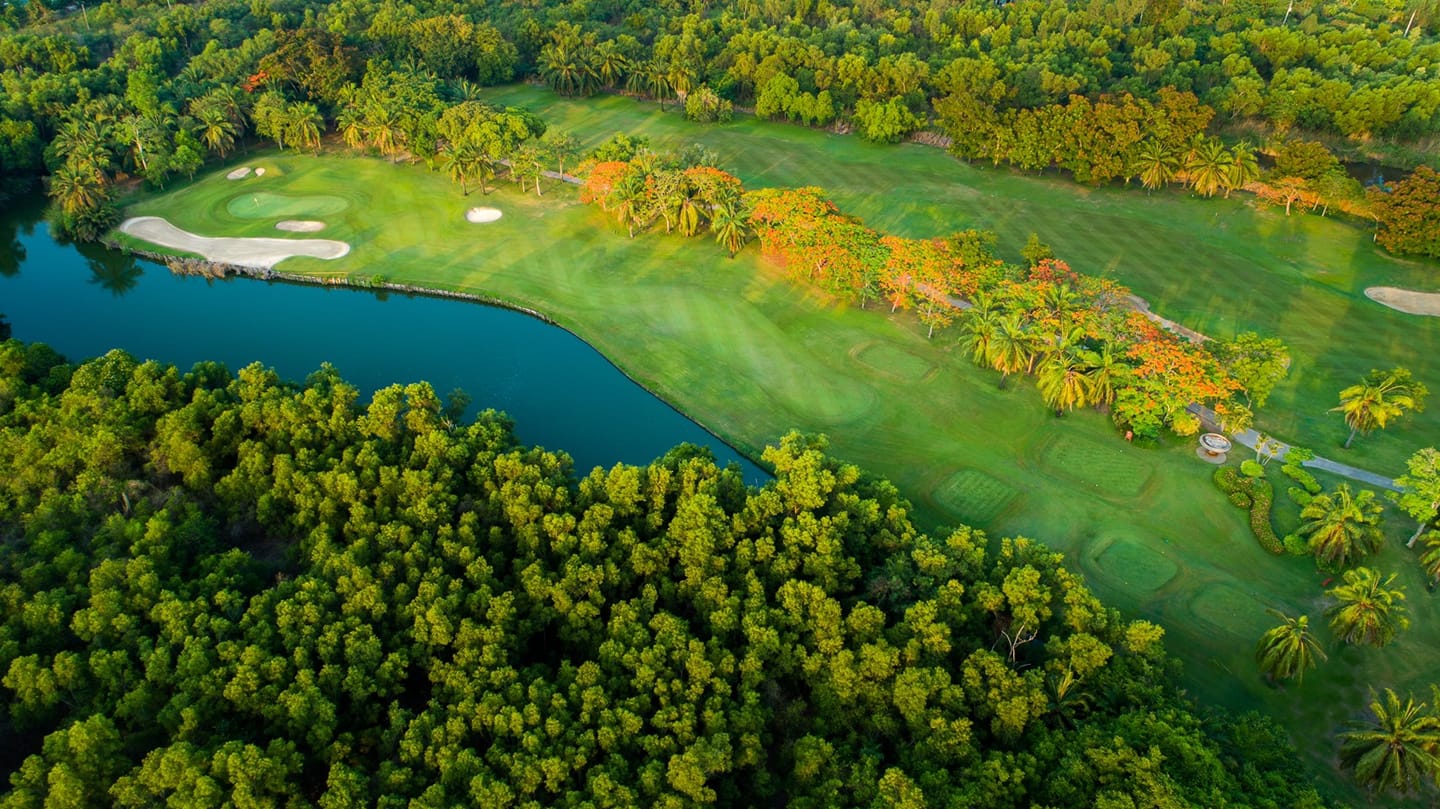 The golf range, unlike most others in the world, does not just have physical targets but it also has watery island targets to hit. The practice facilities are adequate, but they're not in the same top condition as the golf course.
The clubhouse contains a restaurant where excellent Thai and Western food is served.
Summary
So there you have it, a comprehensive guide to some of the best golf courses in Bangkok! Whether you're looking for a challenging game or simply wanting to admire the scenery, these courses are sure to please. So grab your clubs and head on out to Bangkok for an unforgettable golfing experience!
Before you leave check out some of our other posts:
Comprehensive List of All Golf Groups in Thailand
Top Golf in Thailand: Everything you need to know
Best Golf Courses in Pattaya as ranked by you!
Also coming soon!
The best 5 golf courses surrounding Bangkok where we include golf courses like Black Mountain Golf Club, Amata Spring Country Club, Lotus Valley Golf Club and Banyan Golf Club