Although most of you golf vacationers are more likely to fly into Suvarnabhumi airport in Bangkok, there will be more flights arriving at Utapao airport soon
It is in fact scheduled to become the country's second-largest airport.
Also known as the Rayong Pattaya international airport (UTP), it has one of the longest runways in SE Asia, so all types of planes can land there.
It is also not far from Rayong's city center.
Pattaya beach is about a 30-40 minute drive away too.
So when booking your online travel, both cities offer some of the best deals for rooms in Southeast Asia and have many excellent dining options too.
In case you were not up to speed, the Thai government and foreign investors are pouring vast sums into creating an Eastern corridor, especially around Rayong.
So Utapao airport is likely to expand very quickly.
Another factor to take into consideration is in a few years, you will be able to jump on a high-speed train and go from Bangkok to Pattaya and Utapao in less than an hour.
So here are a few golf courses near Utapao airport, if you wish to take in a round at a great Thailand golf course when you land or perhaps before taking a local taxi service to the airport.
Plutaluang Navy Golf Resort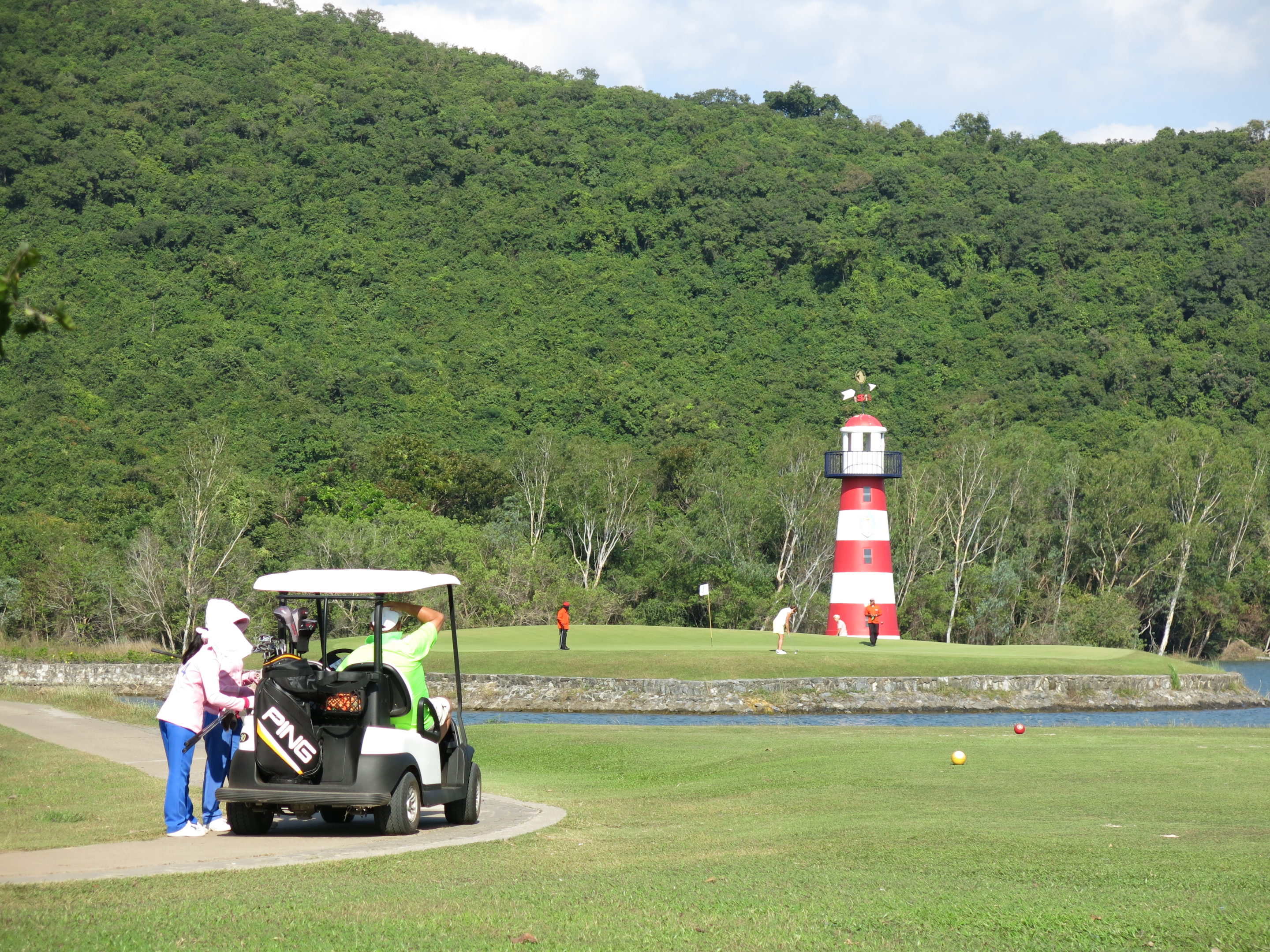 The closest golf course is just 7.5kms away and you could be there in 12 minutes from the arrivals lounge.
Run by the Thai Navy but open to the public this club boasts four 9-hole circuits.
There are reasonable rates on most days. and it has everything from elevated tees to several water hazards.
In fact, they even have a par three with a full-size windmill which you should check out. Most travelers will stop to take a photo or two here.
The Navy is very proud of its facility and encourages real guests from Pattaya and across from Bang Lamung too.
Eastern Star Golf Club
Perhaps another good golf course close by would be Eastern Star Golf Club, around 14 km and 15 minutes away.
Popular with Expat golf groups, the Eastern Star golf course is often referred to as "A thinking man's golf course."
Easter Star golf course is also located near the end of the new Express Way 7 exit heading on to Rayong and Utapao airport.
This 18-hole track is well worth visiting and has some tricky holes with many coconut trees along each fairway plus some unusual topiary.
Quite close to the Gulf of Thailand, so does get breezy at times, but welcome in the hot weather.
They even have an outdoor swimming pool and their large clubhouse has had a recent renovation, and the amenities including its restaurant are top class.
When you check in the public areas have been designed and they have a very well-stocked pro shop there.
Emerald Golf Club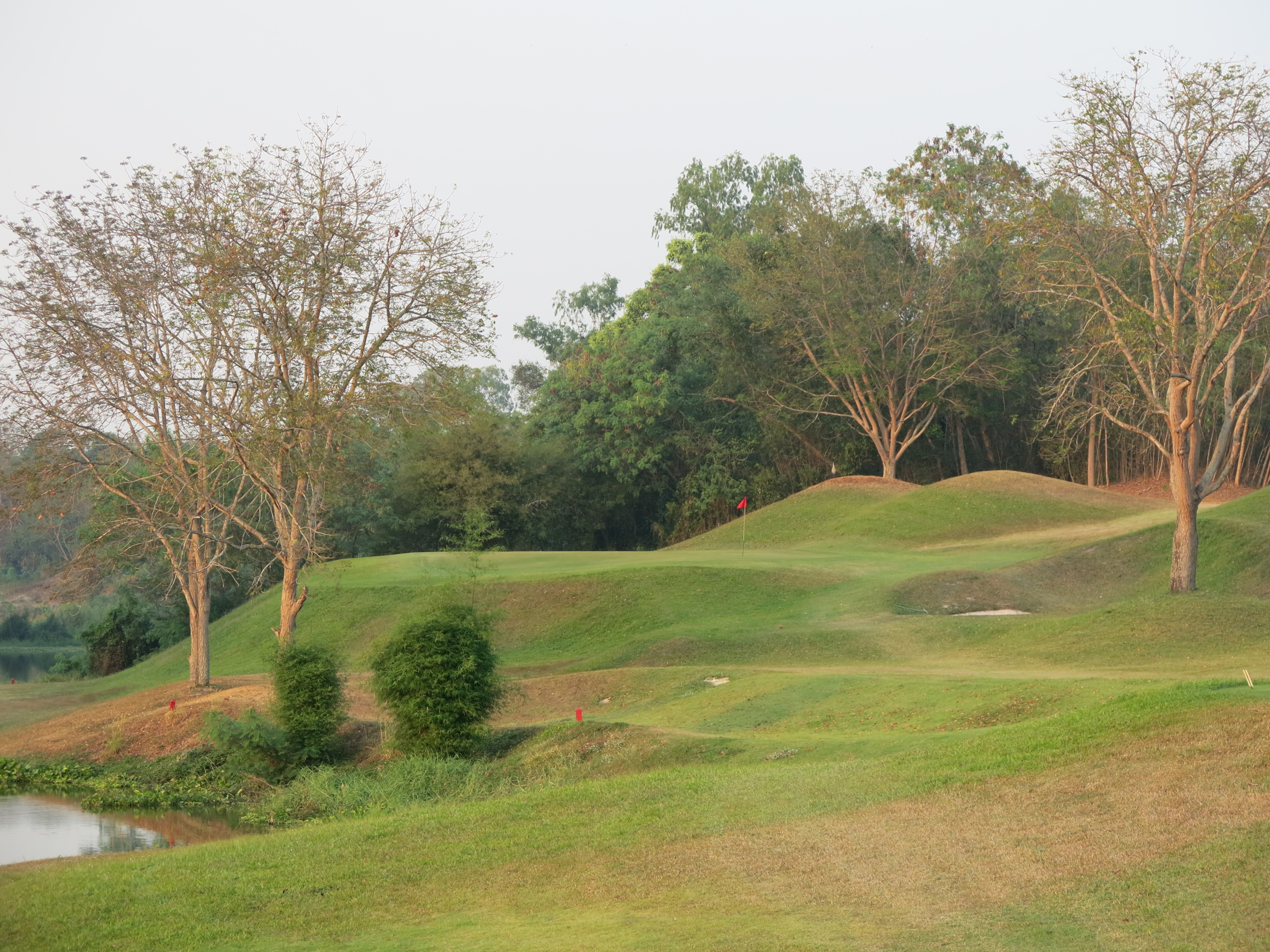 North of the airport it takes around 23 minutes to drive the 18 km to this beautiful 18-hole single-track golf course.
If you wanted a more serious round then take a visit to the Nick Faldo-designed Emerald.
This course will challenge every aspect of your game, and if you conquer the par 3's you have done very well.
It is a single-track layout running through a forest with many pot bunkers and undulating greens.
Almost reminds you of playing close to the Hobbits, it is so quiet.
The Emerald golf course is in an area of Rayong called Ban Chang, which is a fun place to go to after your round as it has many girlie bars there.
Conclusion
Therefore before you travelers start heading off to stay in the popular hotels and to play some of the leading courses near Pattaya beach or Bangkok, you should try these three golf clubs.
Not only are they all located close to UTP Utapao airport, but also provide golfers with top public areas, good services, a clean changing room, great food, dining options, a bar, free wifi, car park all included.
From the many reviews, we have received, the Eastern Star golf course, Plutaluang Navy Course, and the Emerald Golf Club do rate quite high.
Perhaps not the top courses in Thailand however they will provide you and your fellow travelers with an economic but memorable round of golf.
Oh, and you will most likely find flights and online travel packages from Rayong Pattaya international airport that will offer the best deals and will be lower especially as the budget airlines tend to fly there a lot.
Other Recent Blogs