Red Mountain Golf club Phuket has been created around a former tin mine and is arguably the best golf course in Phuket.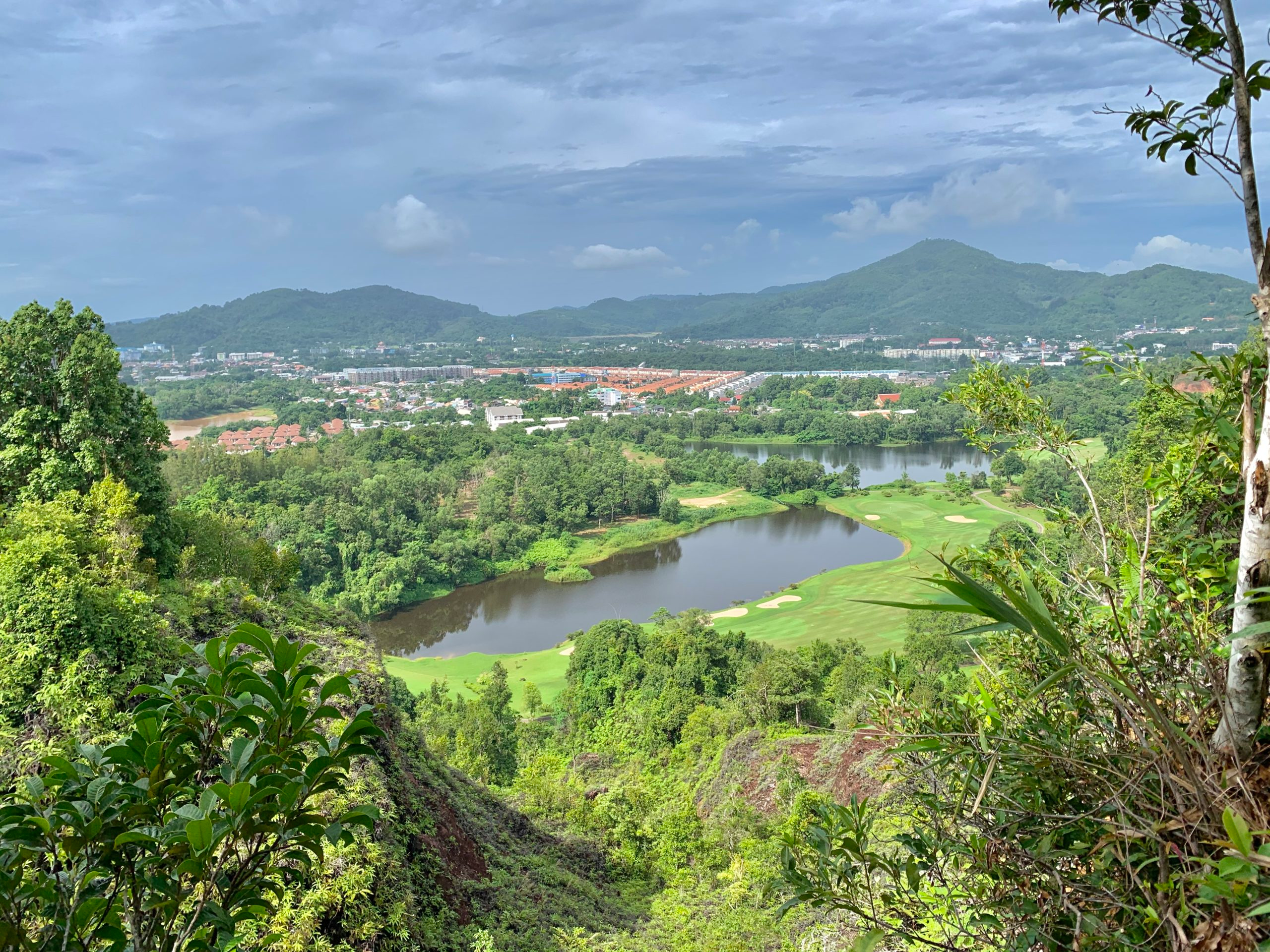 Jonathan Morrow a young Brit designed the par 72 18 holes back in 2007.
He inherited a disused and weathered tin mine and has imaginatively incorporated many of the original gulleys flooded canyons and towering cliffs, making this golf course the hilliest on the island.
Morrow has used Sea Horse Pasplaum on the fairways and has utilized local mature grass around the edges. All the greens are challenging and take advantage of their surroundings.
On arrival, you will check-in at the well-stocked pro shop.
Here you will find that golf carts are compulsory, and to be honest essential to handle the golf courses' dramatic elevation changes. Remember it is a mountain golf club.
Having paid the green fee and caddy fee, you could head out to the Red Mountain grass driving range to warm up.
Great club hire shop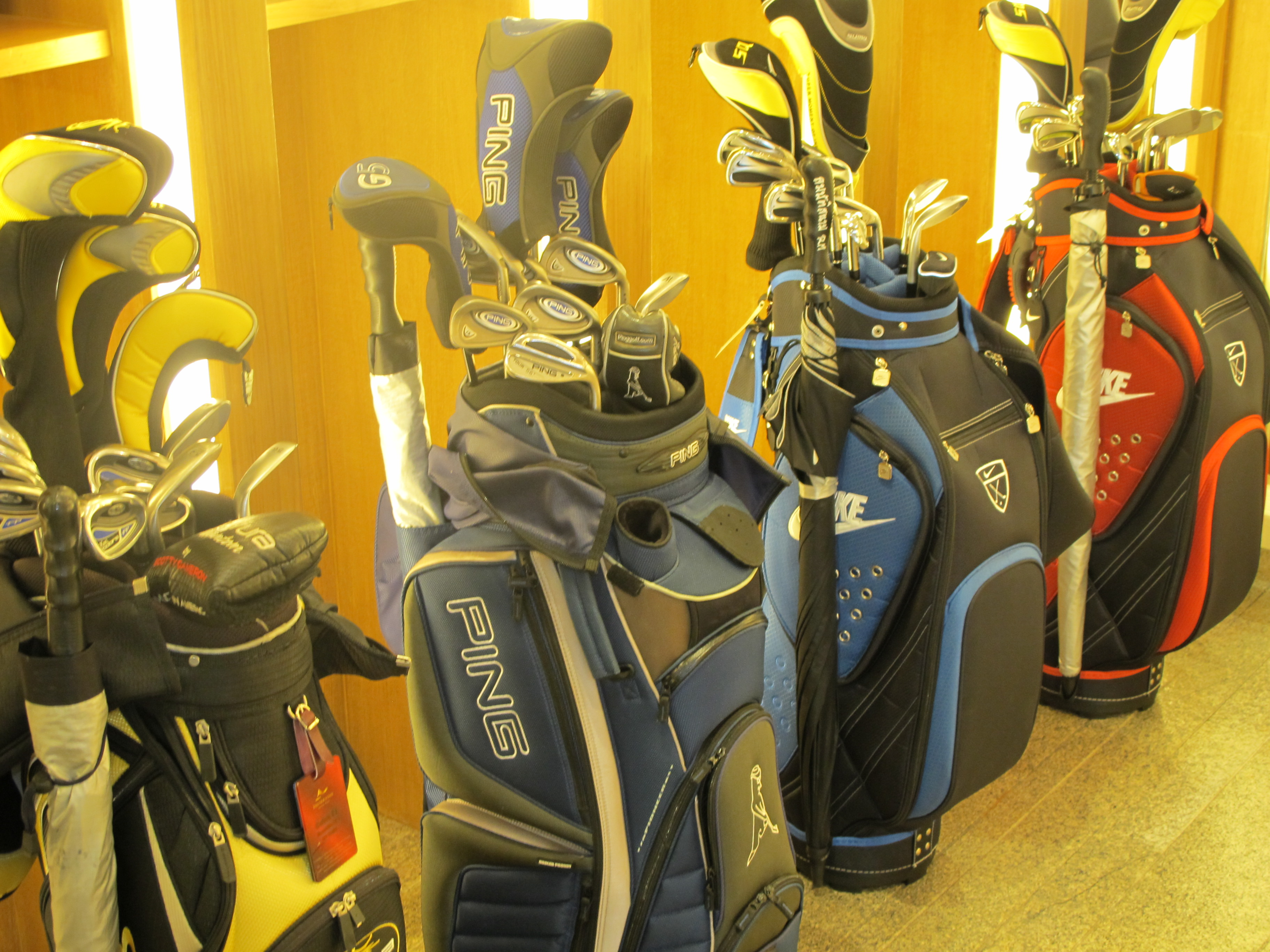 Also, there is a very modern hire shop, so in case you wish to hire a proper set of top golf clubs, they have some great brands. No rusty bags here!
This has to be one of the most exciting golf course layouts around Phuket or for that matter in Thailand.
Arriving at the first elevated tee you look down this par 4 hole with rocks halfway down the sloping fairway with the hole in the distance.
The magic of playing at Red Mountain Golf Club is there are adventures around every hole. It is often referred to as the mountain golf club Phuket.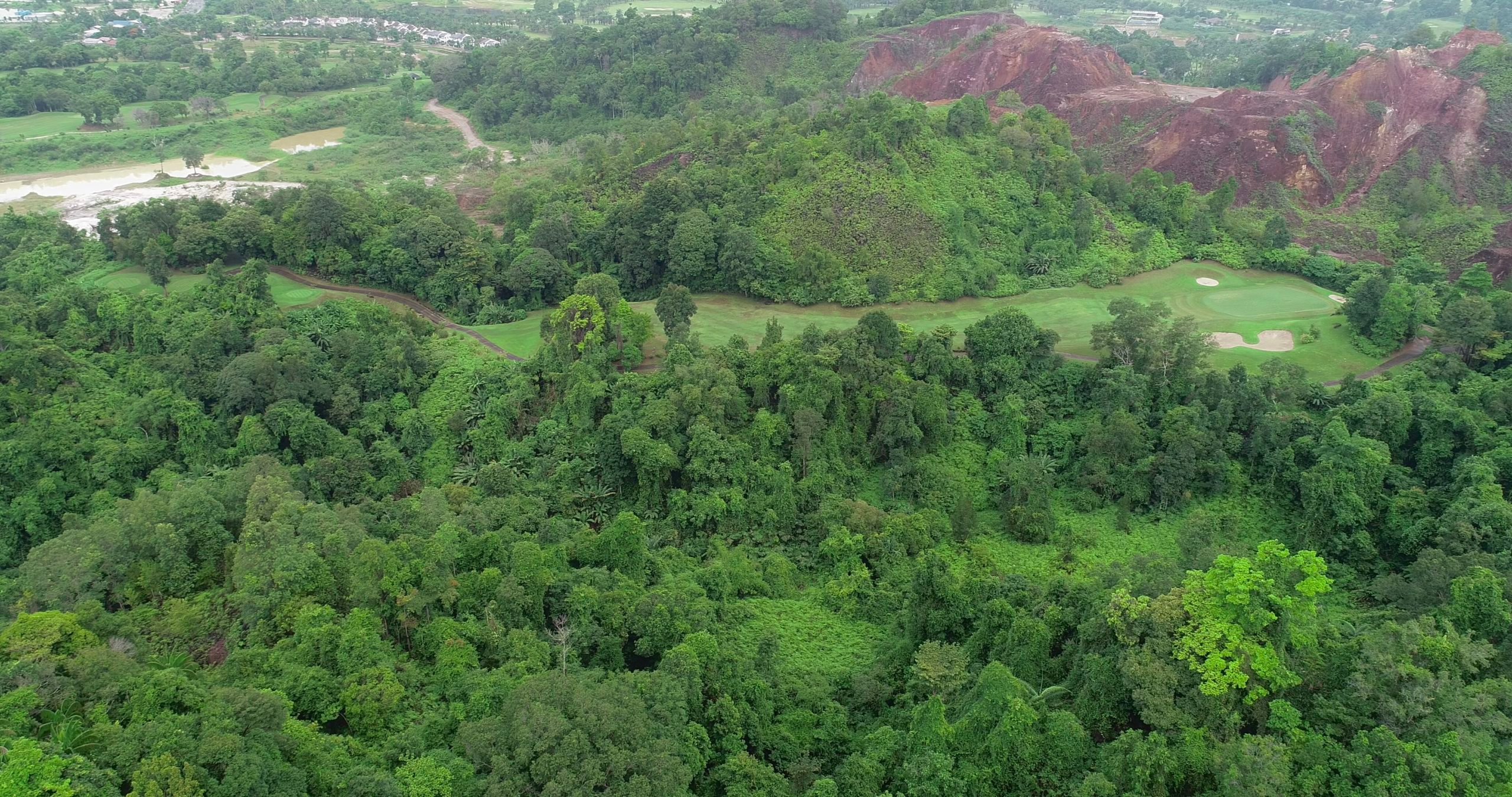 This is because of the many mountain cracks and giant boulders and you are often you are playing around dog legs with no sight of the green ahead.
You can't wait to see what the next challenge awaits on the next tee box.
Their fast greens especially in hot weather need careful attention, so best to listen to the reading given by your caddy.
Caddies at Red Mountain Golf Club are very well trained and competition among local women is high as the Red Mountain golf course tends to be normally busy all year round.
Positions there are very coveted.
This is a course where accuracy is rewarded especially avoiding the lakes and severe rough, particularly on windy days.
The second nine holes are a bit more hilly and in places, the golf cart struggles to reach the next hole.
Most photographed hole in Thailand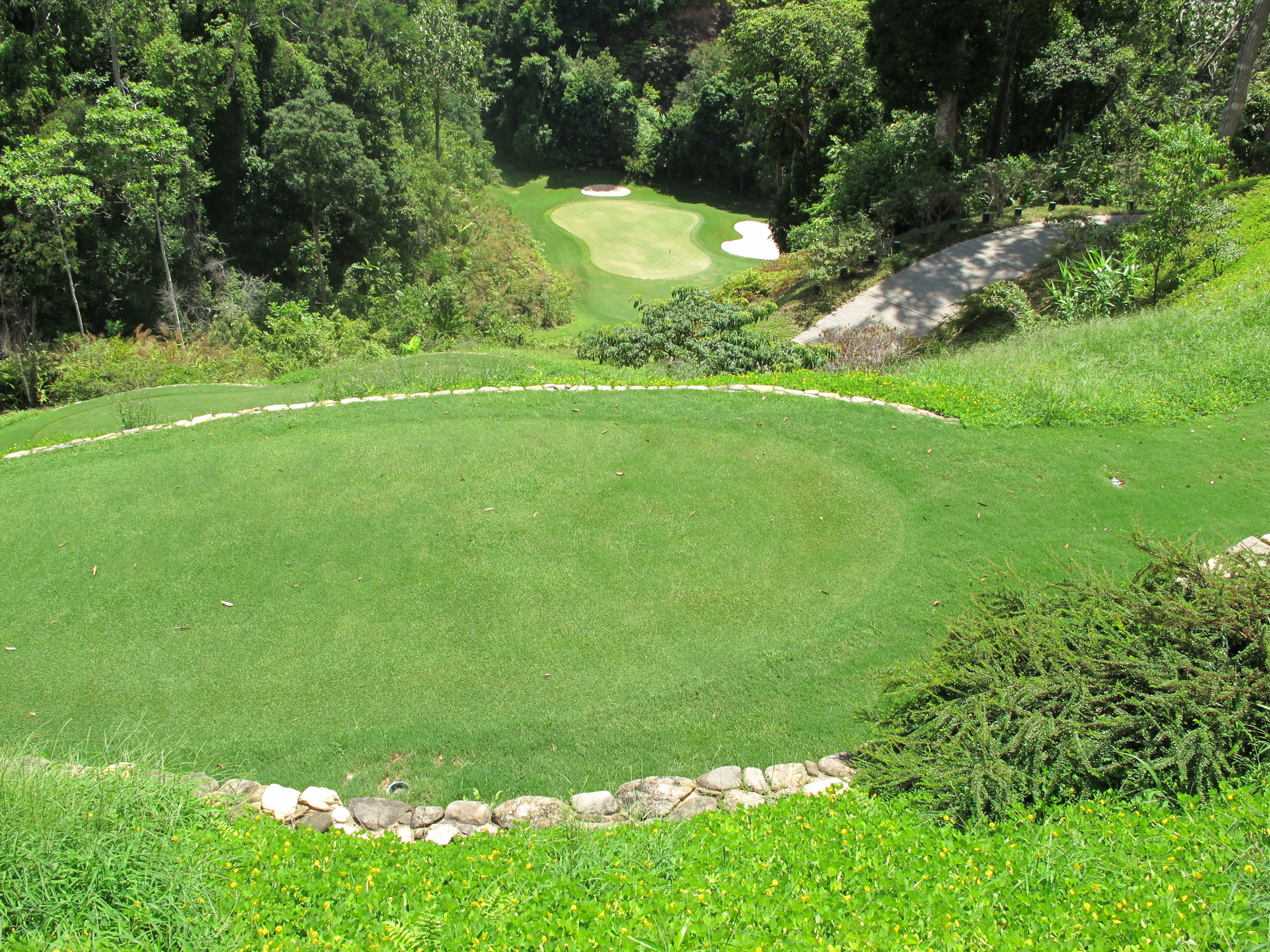 Hole 17th is probably the most photographed hole in Thailand. A par 3 done an old mine shaft so you could almost tee off with your putter!!!
Caddies are used to taking your picture here.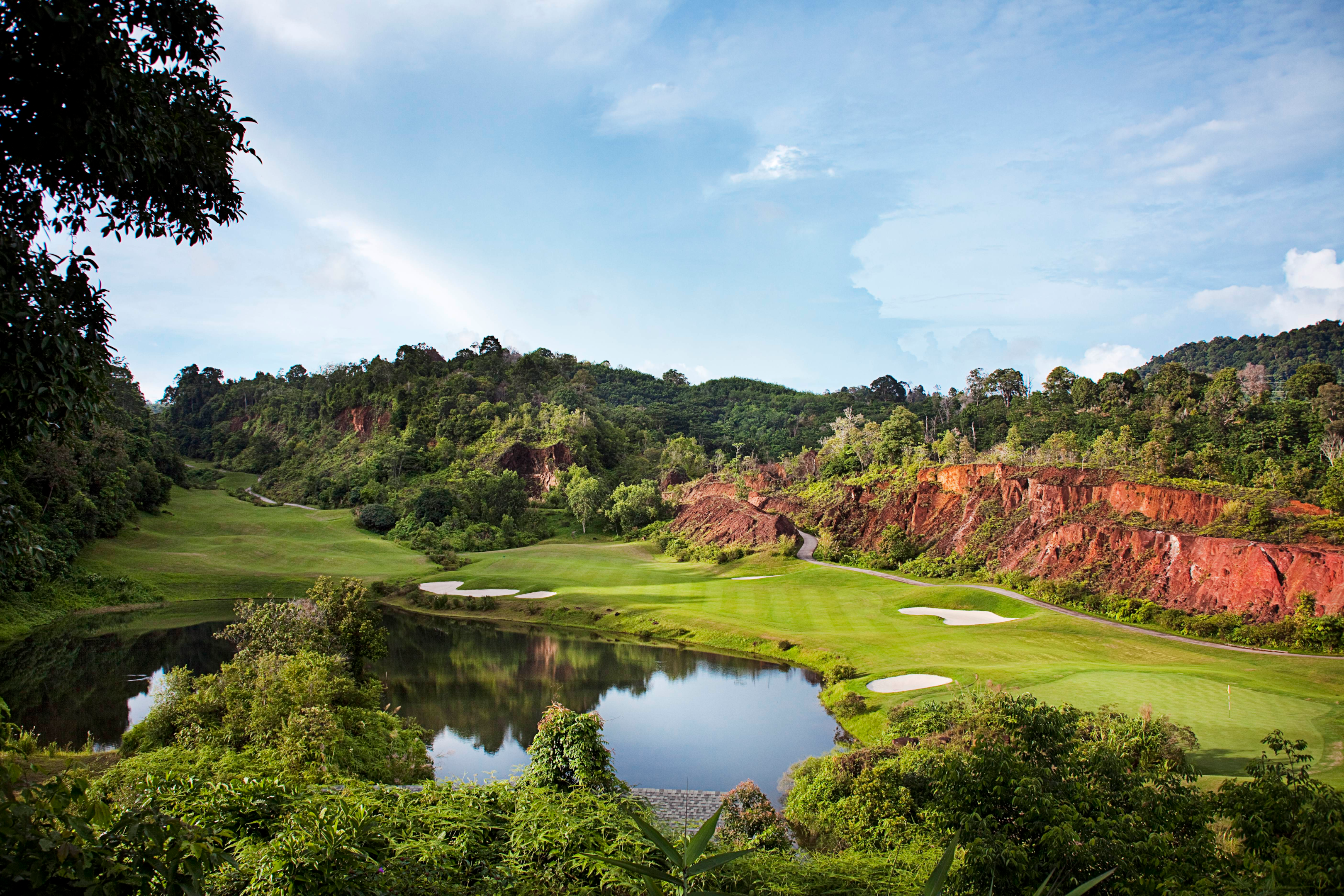 The finishing hole a downhill par 5 overlooked by the lofty clubhouse needs to be treated with respect.
After you have played your round it is worth having a meal and a cool beer on the terrace overlooking the spectacular 18th hole. All the facilities are in good condition
Of all the Phuket golf courses, a golfer visiting Phuket must have Red Mountain at the top of their schedule.
It can be quite expensive compared to other courses.
But for natural beauty, and dramatic elevation changes this cleverly routed layout in the Kamala area of Phuket is worth every Thai Baht.
If you are planning a golf holiday, then as Red Moutain Golf Club can be busy, the best bet is to go to their website and get booked online.
Enjoy some Disney golf and one of the best golf courses in Phuket
Other Recent Blogs