The Riverdale Golf Club is part of the MBK Group of courses including Red Mountain and Loch Palm both high-profile Phuket golf courses plus the Bangkok Golf Club.
MBK also own the MBK shopping centre in Bangkok as well.
Located in Pathumthani
Riverdale Golf Club is a very stylish golf course is located in Pathumthani in the Muang Pathum Thani district.
It is around 30 minutes from the city centre depending on traffic and the time of day. Try to avoid rush hour.
The golf course 18 holes Par 72 opened in 2010.
Same designer as Red Mountain in Phuket
The Riverdale golf course was created by Englishman Jonathon Morrow who also designed the Red Mountain golf course in Phuket.
With a total of four tee options, and playing from a distance of 4,884 to 7,067 yards with a maximum course rating and slope of 73.3/134.
Riverdale Golf Club Bangkok can be described as an immaculately groomed links-style set up.
It provides a reasonable challenging test for players of all levels with a gently sloping downhill opener.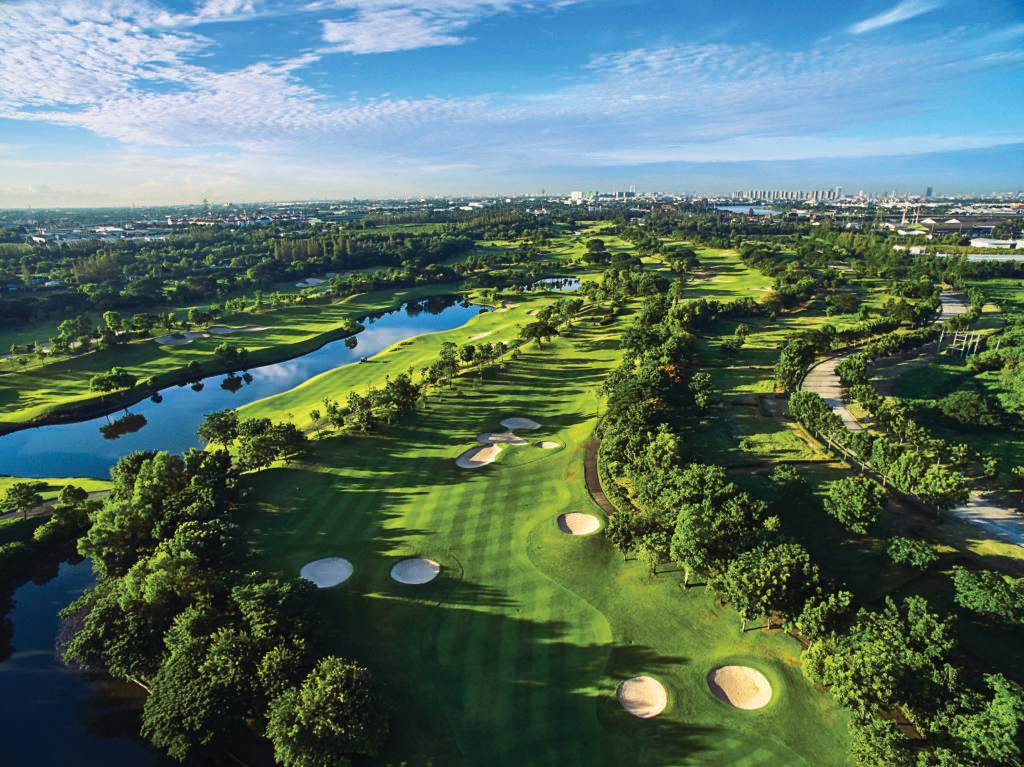 Morrow inherited a flat piece of land surrounded by industrial properties and factories.
Elevations galore
He decided to excavate down 30 meters in places to create water hazards and with the earth added elevation on most holes.
Now the course has matured, and there are trees and shrub land to make for a very interesting layout of gently rolling fairways and excellent bunkering.
Uphill and down dale
The most difficult hole on the course, #5, is a par 4 that plays to a maximum length of 429 yards.
It was crafted to include an intriguing challenge featuring 'uphill and down dale' golf never before seen in the Thai Capital's predominantly flat golf landscapes.
Another favorite is their par 5 6th hole.
Monster 600 yards
Definitely, a three-shot hole running at a massive 600 yards from the back tees.
Large bunkers are a feature at Riverdale Golf Club and hole number 6th has one of the largest.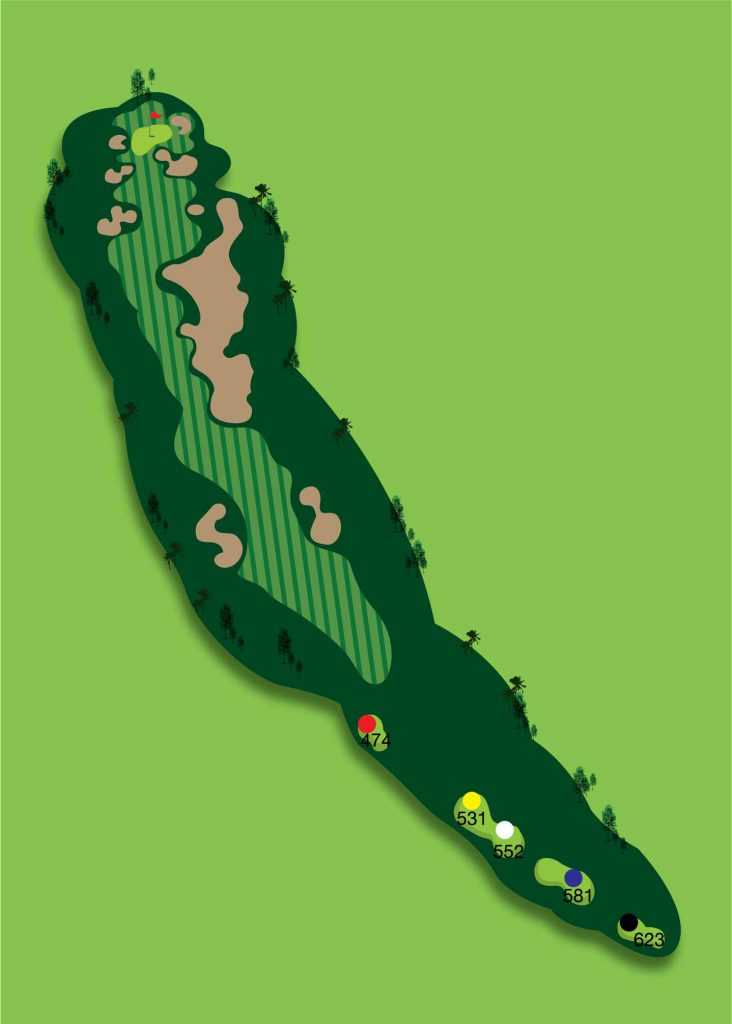 There is a slight dog leg from the raised tee box with a massive bunker on the right with shrub land so you will need two near-perfect shots.
The third shot will then need all your skill and hard work to avoid several bunkers guarding the raised green.
This hole is a fun but menacing test, so getting a birdie here and your game is on song!!!
Two greens here
Another unusual hole is their par 3 8th where you have a choice of two greens.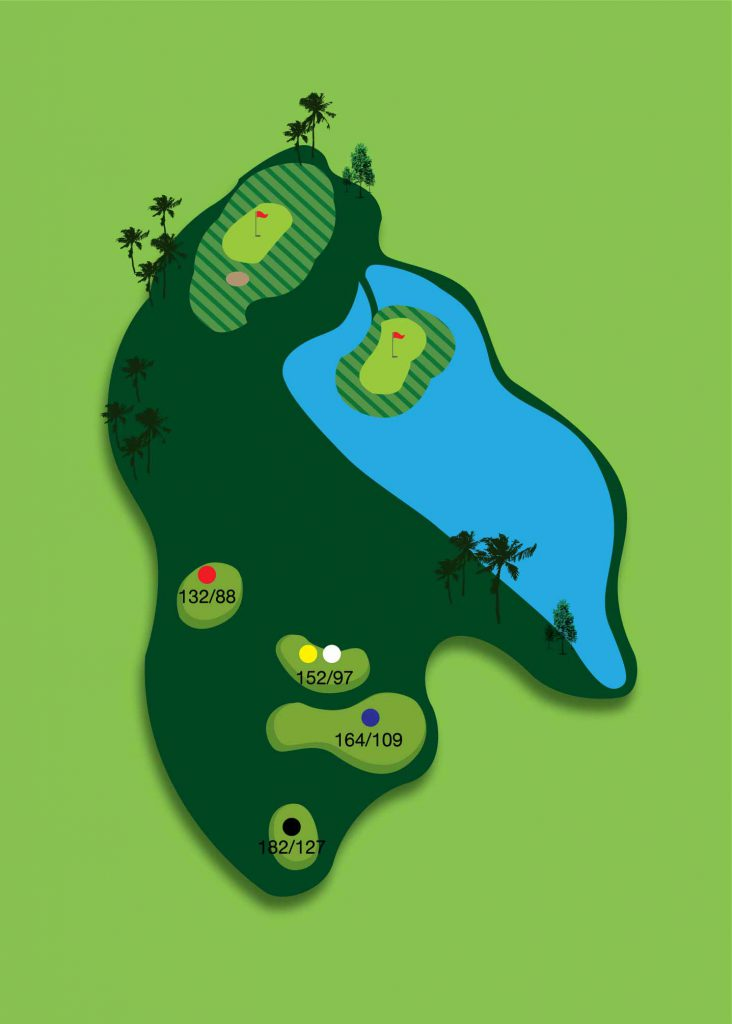 One is a small island green or the safer option is uphill to an elevated green.
Modern minimalistic clubhouse
The golf experience here is complemented by a very modern minimalistic clubhouse with large luxurious change rooms for men and women and a well-stocked pro shop.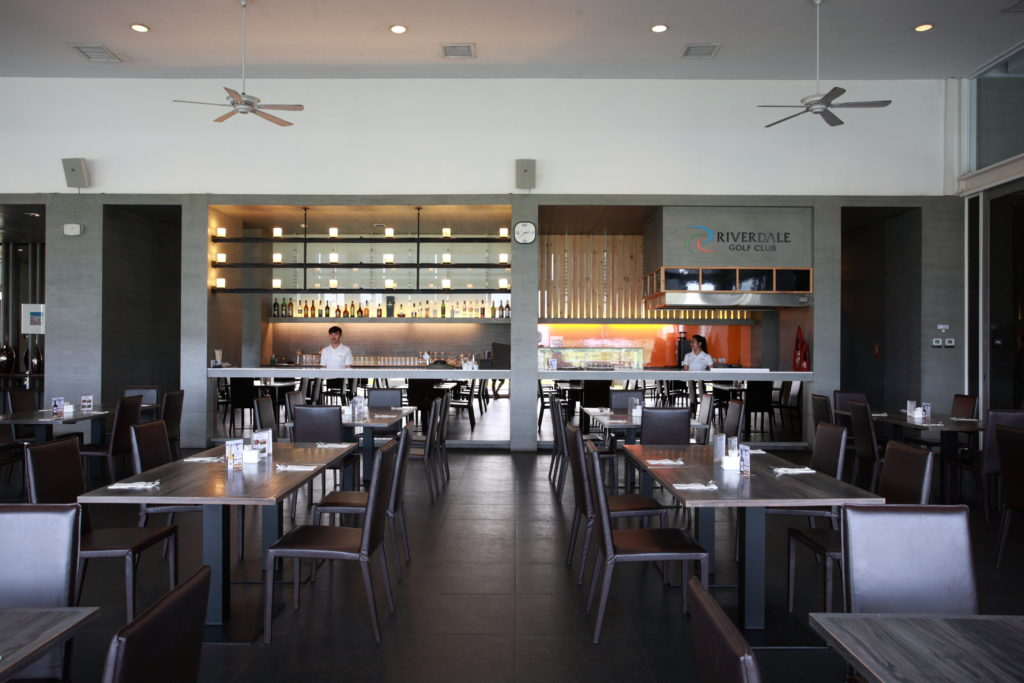 They also have a full-service restaurant that serves international cuisine with an outside area offering grand views over the 18th hole and the rest of the course.
Riverdale Golf Club has become one of the top Bangkok golf courses and the landscape includes gently sloping fairways, large lakes, and hills, making it a fun and good condition golf course to experience.
Busy at weekends so book ahead
Popular with both locals and golf vacationers alike, however, it can get hectic especially at weekends so do book ahead.
Golf Carts are a must
Golf carts are compulsory and the course is well maintained and is normally in excellent condition.
The caddies are very well trained and deserve their tip after helping golfers conquer this challenging great value golf course.
Riverdale Golf Club Bangkok welcomes discerning golfers to enjoy new golfing challenges, immaculate playing conditions, and 5-star services seven days a week.
If you played one of John Morrow's other courses in Phuket, then if you do manage to play a round at Riverdale and you will not be disappointed.
Other Recent Blogs